Map of JayC Food Stores
JayC Food Stores are now easier to map with Mapline. JayC is a supermarket chain in Southern Indiana. Founded in 1863 by Jonathan Groub, the number of grocery stores reached 23 by the end of 2012. In 1994, it became Indiana's largest private retail employer with 2,700 employees. Some stores operate as "Ruler Foods," another discount banner of JayC. In 1999, Kroger acquired JayC Food Stores.
Why spend hours of your time scraping the internet just to get the locations of JayC Food Stores when Mapline has it all for you? Create a map of Jay C Food Stores with just a few seconds instead! There are 23 Jay C Food Stores in the USA to map. Aside from JayC locations, you can browse from more than 5,000 companies and over 4 million locations worldwide!

Steps to Create a Map of JayC Food Stores
Create a Mapline account and login.
Click "New Map" to create a new map.
Give your map a name and click "Create Map."
Click the orange "Add Data Layers" button from the left sidebar.
Select the "Add Pins from Mapline Data" option.
Now you will see a list of all the datasets (spreadsheets).
Using the Search Box, select "JayC" as your dataset.
Click "Done."
This is how your map would look like after adding your dataset and customize your map pin: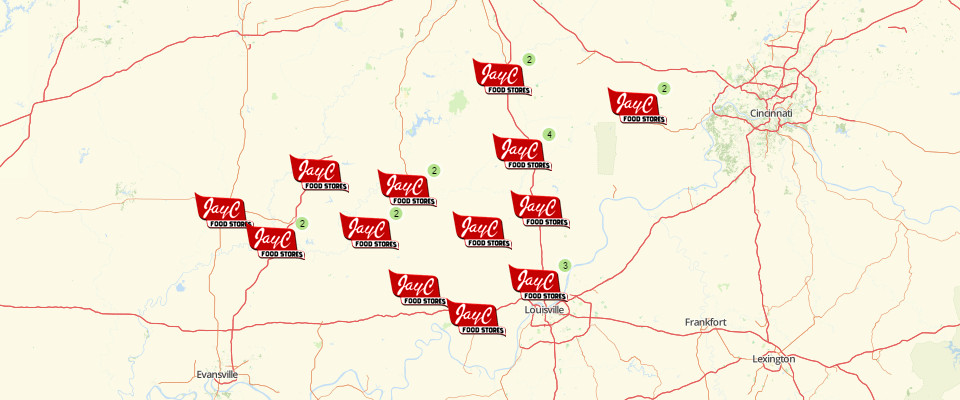 Cool isn't it? Imagine what your map would look like if you dive deep and use other features of Mapline! Bring out the life in your map as you show the labels of each location, cluster pins, create heat maps, and add coverage overlay. Mapline makes it simple for you to see location details about the locations just by clicking on them! Sign up now to create a map of JayC Food Stores.