Map of King Soopers Locations
Mapping King Soopers locations may be difficult without using Mapline. King Soopers, a supermarket brand of Kroger in the state of Colorado, was started by Lloyd J. King in 1947. With a philosophy of "friendly service, value, cleanliness and quality," the number of stores went up steadily in just a few years. The stores are located in Arvada, Cheyenne, Wyoming, Pueblo, Denver and Colorado Springs in Colorado. In 1957 King Soopers was acquired by the Dillon Companies which later merged with Kroger in 1983.
You don't need to stress yourself scraping the web for King Soopers locations because Mapline got you covered! With just a few minutes, your map is up and running. There are 112 King Soopers locations in the USA to map.

Steps to Create a Map of King Soopers Locations
Create a Mapline account and login.
Click "New Map" to create a new map.
Give your map a name and click "Create Map."
Click the orange "Add Data Layers" button from the left sidebar.
Select the "Add Pins from Mapline Data" option.
Now you will see a list of all the datasets (spreadsheets) available.
Using the Search Box, select "King Soopers" as your dataset.
Click "Done."
Once your King Soopers dataset is added, you can customize the map pin by uploading an image and turn it into a King Soopers logo. Your map would look like this: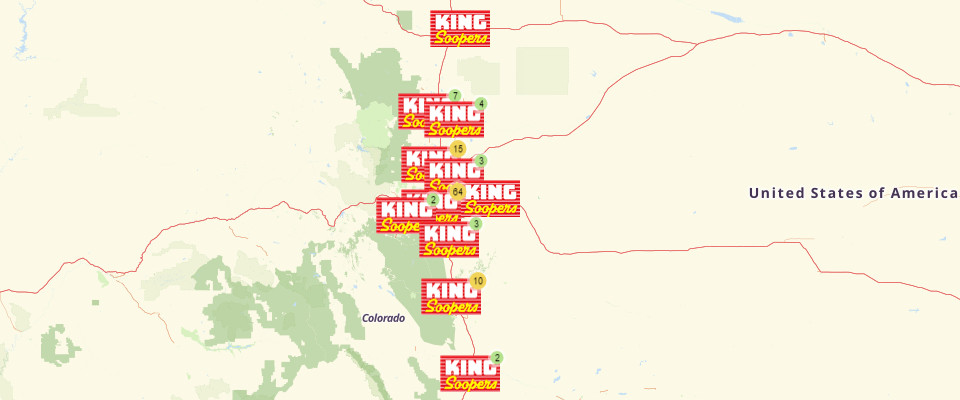 There are a lot that you can still do once you created your map. Try using other options which will be beneficial to your data analysis and visualization. You can add coverage overlay, cluster the map pins, show labels, draw heat maps, and more. Plus, Mapline makes it simple for you to see the summary information of each location just by clicking on it to appear the bubble.
Save your time and money by using Mapline to map your needed datasets! Mapline makes it the easiest for you to map thousands of locations. Check out here and you'll be surprised to see the company datasets that you've been looking for. Browse from more than 5,000 companies and over 4 million locations worldwide! Sign up now to create a King Soopers locations map.