Map of Mariano's Fresh Market Locations
Mapline offers the easiest way to map Mariano's Fresh Market locations. Mariano's, a subsidiary of Kroger, is a unique neighborhood shopping store. It was named after Robert Mariano, the Chief Executive Officer of the company. The stores were designed to deliver the highest quality products both from local and global markets. Unlike other stores that serve grocery items, Mariano's have added amenities like Italian coffee shop with wood-fired pizza oven, a sushi bar, and a 24-7 pharmacy.  The 1st Fresh Market store is located in Arlington Heights, Illinois.
We provide the dataset of all 32 Mariano's Fresh Market locations. All you have to do is to just sit down and map. Aside from Mariano's, you can also map thousands of locations in just a few clicks of a button!


Steps to Create a Map of Mariano's Fresh Market Locations
Create a Mapline account and login.
Click "New Map" to create a new map.
Give your map a name and click "Create Map."
Click the orange "Add Data Layers" button from the left sidebar.
Select the "Add Pins from Mapline Data" option.
Now you will see a list of all the datasets (spreadsheets).
Using the Search Box, select "Mariano's" as your dataset.
Click "Done."
Here's what your map would look like after adding the dataset and customizing your map pin with a Mariano's Fresh Market logo: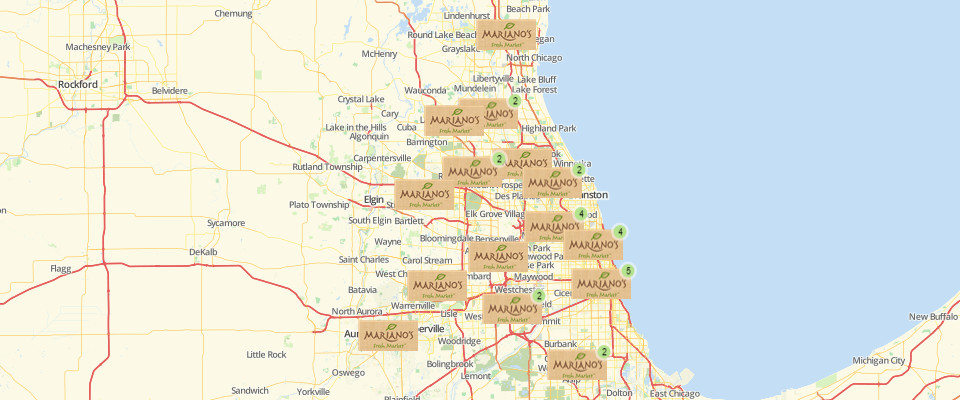 For enhanced mapping experience, Mapline provides features that make your map looks super cool! Look at how easy it is to cluster map pins, show location labels, build heat maps, and add coverage overlay in just a few clicks. Wait till you click the map pin so the bubble will come out featuring the summary information of that location!
Check out from this list of more than 5.000 companies and over 4 million locations worldwide! Sign up now to create a map of Mariano's Fresh Market locations.