Map of Owen's Market Locations
Owen's Market stores may be few but there are some people who are looking for the exact locations. Using Mapline, you can map all the stores of Owen's because we provide you the data set. Owen's Market, a chain of grocery stores located in the state of Indiana, is a subsidiary of The Kroger Company. Currently, there are 5 locations of Owen's Market in Huntington, Ligonier, and Warsaw cities.
In just 8 simple steps, you're on your road to easy mapping of 5 locations of Owen's Market. See how fast you can map!


Steps to Create a Map of Owen's Market Locations
Create a Mapline account and login.
Click "New Map" to create a new map.
Give your map a name and click "Create Map."
Click the orange "Add Data Layers" button from the left sidebar.
Select the "Add Pins from Mapline Data" option.
Now you will see a list of all the datasets (spreadsheets).
Using the Search Box, select "Owen's Market" as your dataset.
Click "Done."
In less than a minute, your map of Owen's Market locations is ready to view. You may want to try uploading a logo of the company and customize the map pin so your map would look like this: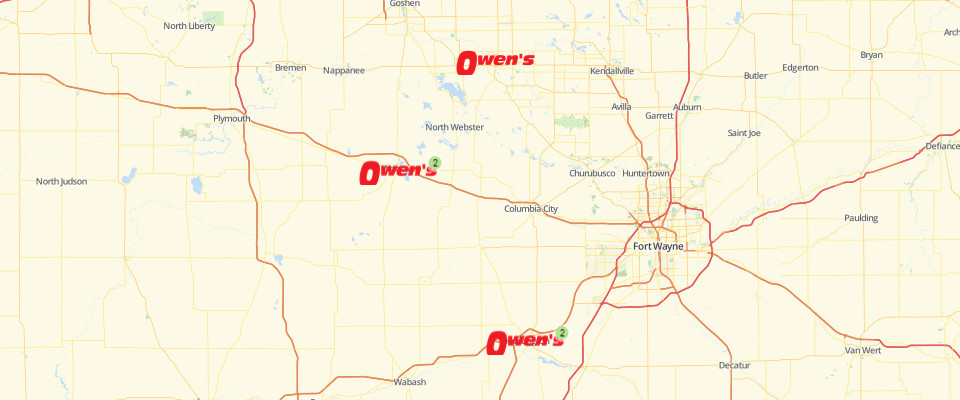 There is so much more that you can do after mapping all the locations of Owen's Market. For a more attractive map presentation, try adding coverage layer or do some heat mapping. You can also cluster the pins or show the address labels. Your map will turn to be even better when you show the bubble by clicking the map pin. The bubble displays the summary information of that location like the exact address, the hours of operation and the contact number.
Aside from Owen's, check out from more than 5,000 companies and over 4 million locations here. Sign up now to create a Owen's Market locations map.