Map of Pay Less Supermarket Locations
Some people from different sectors (marketing, sales, etc.) are looking for a data set of Pay Less supermarket to map their locations. Look further no more! Mapline is here to provide you the 7 locations of Pay Less. All you need to do is sit tight and map. Pay Less is a chain of stores located in Anderson, Lafayette and West Lafayette towns in the state of Indiana. The company was founded by H.J. Contos in 1947. In 1990, The Kroger Company acquired Pay Less. Nowadays, Kroger still continues to run the Pay Less banner under its Central division, which includes Scott's Food & Pharmacy, and Owen's Market.
With just a few clicks of a button, Mapline makes it the easiest for you to map the locations of Pay Less Supermarkets!

Steps to Create a Map of Pay Less Supermarket Locations
Create a Mapline account and login.
Click "New Map" to create a new map.
Give your map a name and click "Create Map."
Click the orange "Add Data Layers" button from the left sidebar.
Select the "Add Pins from Mapline Data" option.
Now you will see a list of all the datasets (spreadsheets).
Using the Search Box, select "Pay Less Supermarket" as your dataset.
Click "Done."
When you're done adding the dataset, you can customize the map pin and turn it into a Pay Less Supermarket logo. Your map would look like this: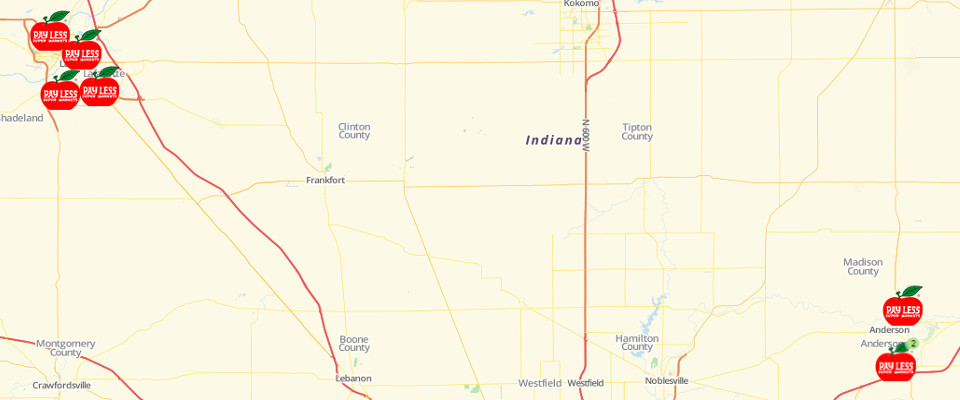 Simple and easy – that's how mapping Pay Less Supermarket locations will be with Mapline. To make your map look more awesome, you can play around other features like showing labels, creating heat maps, adding coverage overlay, and clustering pins. Also, just by clicking the map pin, a bubble will show up and will give you the summary information of that location.
Here's a complete list of companies and datasets available in Mapline. Check out from more than 5,000 companies and over 4 million locations worldwide! Sign up now to create a Pay Less Supermarket locations map.