Map of Ralphs Supermarket Locations
Now, you can map Ralphs Supermarket locations using Mapline. Ralphs is known as the current market leader in supermarket chain in the Southern California area. It is also the largest subsidiary of Kroger. Founded by George Albert Ralphs in 1873, the first store was located in Los Angeles, California. In the turn of the 20th century, Ralphs became a pioneer in grocery service, extending self-service markets with checkout stands.
Using Mapline, you can easily create a map of Ralphs Supermarket locations. Mapline provides 209 Ralphs stores in the USA and all you have to do is to map them!


Steps to Create a Map of Ralphs Supermarket Locations
Create a Mapline account and login.
Click "New Map" to create a new map.
Give your map a name and click "Create Map."
Click the orange "Add Data Layers" button from the left sidebar.
Select the "Add Pins from Mapline Data" option.
Now you will see a list of all the datasets (spreadsheets) available to you.
Using the Search Box, select "Ralphs" as your dataset.
Click "Done."
After adding the dataset, you may want to customize the map pin and upload a Ralphs Supermarket logo so your map would look something like this: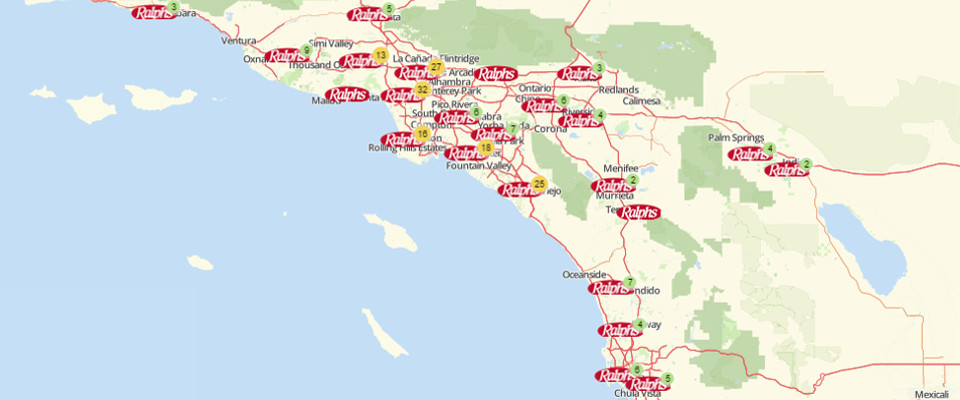 Mapping a Ralphs Supermarket locations is as easy as that! As you build your map, there are other mapping options available for you to try including:
Why pay for someone to scrape data for you over the internet when you can be a rock star mapping Ralphs grocery locations? And it gets better! If you click a map pin, a bubble will appear and it will give you the summary information of that location. So you can easily access the exact address, hours of operations, or contact information of that location. Ralphs is just one of the more than 5,000 company data set locations that Mapline offers. Sign up now to create a Ralphs Supermarket locations map.