Map Rent-a-Center Locations in a Snap!
It takes hours, even days, to collate address locations and map them all. But with Mapline, it takes only a few minutes. Let's take Rent-a-Center locations for example. Rent-A-Center is a public furniture and electronics rent-to-own company headquartered in Plano, Texas and operates in the USA, Canada, Mexico, and Puerto Rico. It was founded by Jonathan "Ernie" Talley who started a single retail company in Wichita, Kansas. The company was incorporated in 1986.
Using Mapline, map Rent-a-Center locations in a snap! As part of the company's growth, it acquired  1,409 stores from Thorn Americas in 1998 and 782 stores from RentWay in 2006. Mapline provides 2,768 locations of Rent-A-Center in the USA.


Steps to Create a Map of Rent-a-Center Locations
Create a Mapline account and login.
Click the orange "Add Data Layers" button from the left sidebar.
Click "New Map" to create a new map.
Give your map a name and click "Create Map."
Select the "Add Pins from Mapline Data" option.
Now you will see a list of all the datasets (spreadsheets).
Using the Search Box, select "Rent-a-Center" as your dataset.
Click "Done."
Your map will look better once you customize the pin. For this map, upload a logo of Rent-a-Center and make it as your map icon.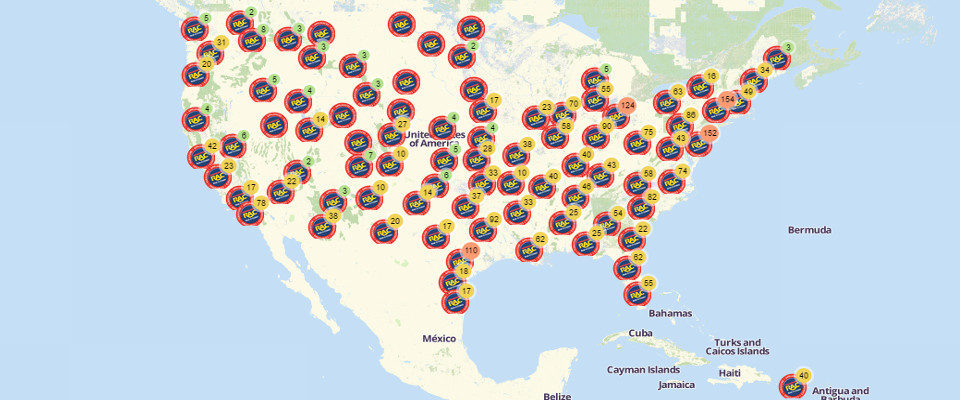 Not only that, there are mapping tools that add value to map visualization. For a map with thousands of locations, the pins will be automatically clustered. But you have the option to change the cluster radius. Use the draw pad for a more focused approach in targeting your market. Use the sublayers option to group the pins on your map without uploading from your spreadsheet every so often. Upload once from your spreadsheet and use this option to work around how to analyze your address locations.
If ever there's a need to map thousands of locations, check this list, we probably got what you're looking for! Check out from more than 4,700 companies and over 4 million locations worldwide! Sign up now to create a map of Rent-a-Center locations.