Map Save-a-Lot Locations in 60 Seconds (or Less!)
Using Mapline, map more than a thousand Save-a-Lot locations in just a minute! Save-A-Lot is one of the largest grocery store chains in the USA. The company was founded by Bill Moran in 1977. The food store company started with a single store in 1977. Now, the company is one of the largest U.S. grocery store chains. The first Save-a-Lot store was opened in Cahokia, IL. Since then, the number of stores ballooned to over 1,300 scattered in 38 states as well as the Caribbean and Central America. The company has 17 wholesale distribution centers.
In 60 seconds, easily build a Save-a-Lot locations map. With just a few clicks, Mapline makes it easy and fast for you to map 1,356 Save-a-Lot locations.


Steps to Create a Map of Save-a-Lot Locations
Create a Mapline account and login.
Click "New Map" to create a new map.
Give your map a name and click "Create Map."
Click the orange "Add Data Layers" button from the left sidebar.
Select the "Add Pins from Mapline Data" option.
Now you will see a list of all the datasets (spreadsheets).
Using the Search Box, select "Save-a-Lot (Supervalu)" as your dataset.
Click "Done."
Make an impact in your map by customizing your map pin. Just upload a logo of Save-a-Lot and make it your map icon.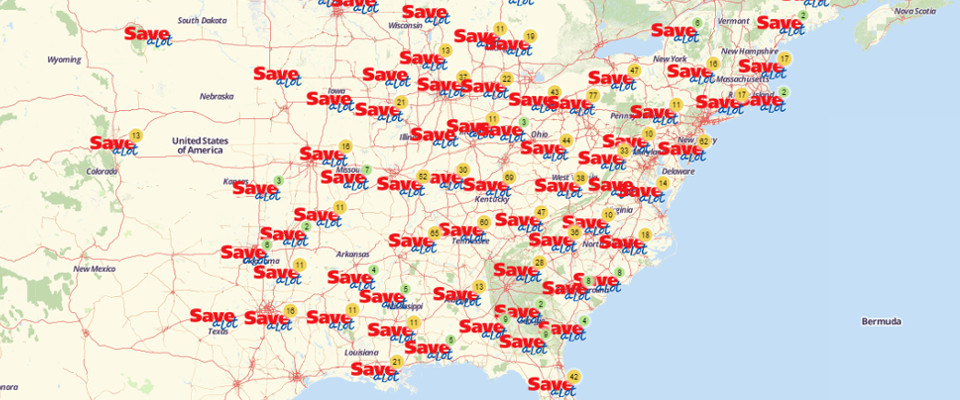 Is that easy map-making or what? Not only that, you can add a bunch of mapping features that will help enhance your data visualization. For in-depth data analysis, there's an option where you can draw customized territories using the draw pad, create a heat map or measure distance between locations. For map presentations, you can show labels, filter pins according to their distinct characteristics, or show the bubble – the cheat sheet of your spreadsheet locations.
Indeed, using Mapline for datasets and mapping can save you a lot of time. You may want to browse our list of more than 5,000 companies on your next mapping adventure. Sign up now to create a Save-a-Lot locations map.