Map Stripes Convenience Stores on The Fly
Locations of Stripes Convenience Stores is not impossible to map easily with the use of Mapline. Stripes, one of the largest non-refining operators, is a chain of convenience stores scattered around New Mexico, Oklahoma, and Texas. Its headquarters are located in Corpus Christi, Texas. In 2007, it acquired the Town & Country Food Stores chain. 2 years after, Stripes acquired 25 Quick Stuff convenience stores. In 2014, Energy Transfer Partners, the parent company of Sunoco, acquired Stripes stores.
Using Mapline, create a map of Stripes Convenience Stores on the fly! There are 634 Stripes Convenience Stores in the USA to map.


Steps to Create a Map of Stripes Convenience Stores
Create a Mapline account and login.
Click "New Map" to create a new map.
Give your map a name and click "Create Map."
Click the orange "Add Data Layers" button from the left sidebar.
Select the "Add Pins from Mapline Data" option.
Now you will see a list of all the datasets (spreadsheets).
Using the Search Box, select "Stripes Convenience Stores" as your dataset.
Click "Done."
Create a map that looks good by uploading a logo of Stripes and make it your map pin.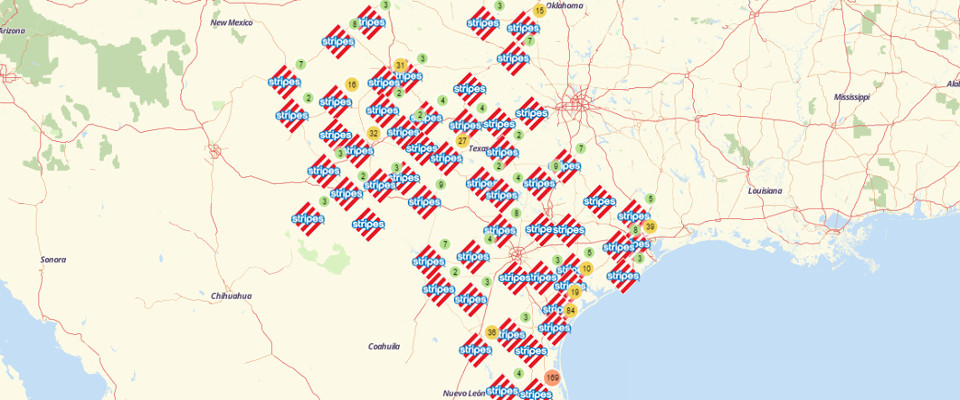 By using other Mapline features, your map will look distinctly unique while cutting your data analysis time in half! If you want to know more about the competition or understand new market, you can create a heat map, add coverage overlay, add multiple datasets, and measure distance between locations.
Your company will look good as you make your map look good! Create maps using Mapline-provided datasets. We have datasets of over 5,000 companies to map! Sign up now to create a Stripes Convenience Stores map.