Map Thousands of Dunlop Tires Locations with Mapline
Tired of looking everywhere to list down and map all locations of Dunlop Tires? Don't be! Mapline is the answer. Dunlop Tires was founded in 1889 by John Boyd Dunlop when he developed a tire made of canvas bonded with liquid rubber for his son's tricycle. A century later, the company developed the Dunlop Self-Supporting Technology system. It is a system used to enable vehicles to drive even on flat tires. In 1999, the company developed the 1st tire-pressure-loss detection system called Warnair. In 2000, the company integrated with Goodyear Tire and Rubber Company.


Mapping Dunlop Tires locations can be done in a minute with Mapline. Here are a few simple steps:
Steps to Create a Map of Dunlop Tires Locations
Create a Mapline account and login.
Click the orange "Add Data Layers" button from the left sidebar.
Click "New Map" to create a new map.
Give your map a name and click "Create Map."
Select the "Add Pins from Mapline Data" option.
Now you will see a list of all the datasets (spreadsheets).
Using the Search Box, select "Dunlop Tires" as your dataset.
Click "Done."
To make your map look more powerful, customize the map pins. Add a logo of Dunlop Tires and turn it as your map pin. Your map would look like this: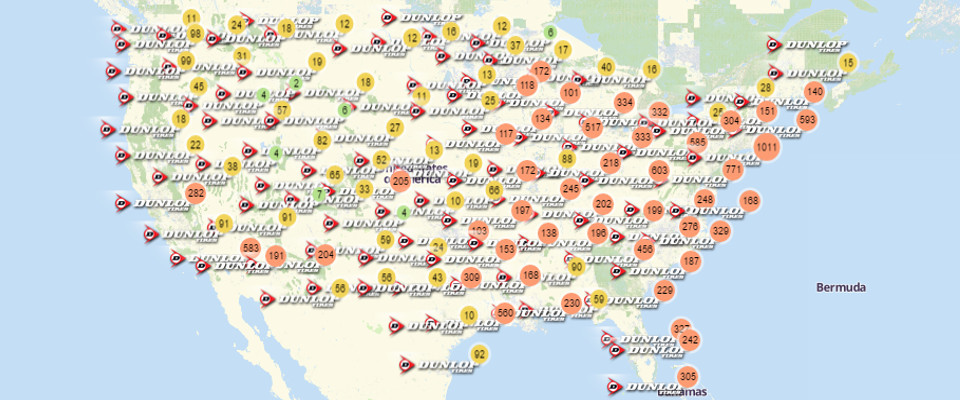 See how easy it is to create a Dunlop Tires locations map? Once your map is shown, play around different features like adding more datasets. When multiple data are viewed all at once, your map unlocks and formulates new information to understand how to improve more. You can also create a sales territory map to help organize the performances of your sales team. Do you know that your maps can be shared to your colleagues, sales teams, and clients? In a few seconds, show them your map plan to help your group achieve your goal.
Why go to other sites to collate locations of Dunlop Tires when with Mapline, you can map thousands of its locations in a manner of minutes? Browse here for the complete list of over 5,000 companies worldwide! Sign up now to create a map of Dunlop Tires Locations.