Map Trader Joe's Locations
Mapping Trader Joe's Store Locations for Analysis
Creating a map of spreadsheet locations, such as Trader Joe's store locations, is a task worth doing. The visualization it brings will give you the edge to understand how the pins are connected and how the connections affect your business. With Mapline, you can easily create a map of all Trader Joe's locations.
Trader Joe's is a chain of grocery stores that offer organic and fresh food items. The first store was opened in 1967, and today, there are over 450 stores across the United States. As a store catering to cost-conscious health-focused clientele, Trader Joe's is an important player to watch. With retail store mapping, you can keep a close eye on your competitors' locations.
With a spreadsheet of Trader Joe's locations ready for you, all you need to do is map the locations.


Steps to Create a Map of Trader Joe's Locations
Create a Mapline account and login.
Click "New Map" to create a new map.
Give your map a name and click "Create Map."
Click the orange "Add Data Layers" button from the left sidebar.
Select the "Add Pins from Mapline Data" option.
Now you will see a list of all the datasets (spreadsheets).
Using the Search Box, select "Trader Joe's" as your dataset.
Click "Done."
To make your Trader's Joe map look good, the first thing you have to do is to make an awesome pin. Upload a Trader Joe's logo and make it your map icon just like this one: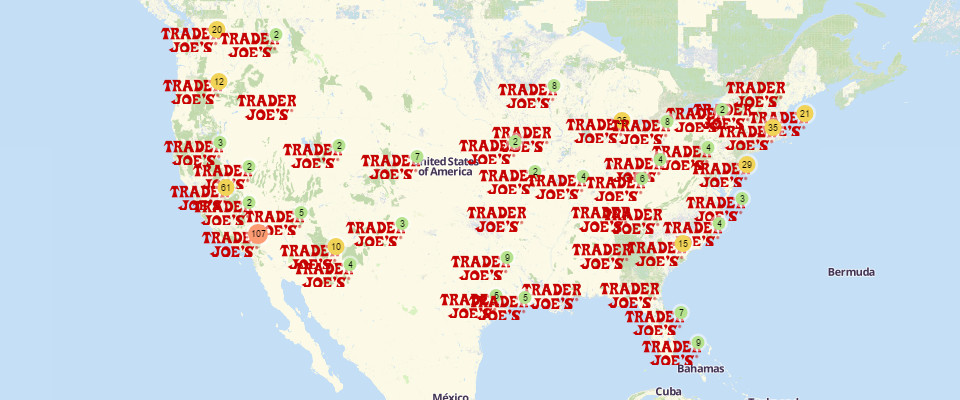 Using Trader Joe's Locations for Business Analysis
See how easy it is to create a Trader Joe's locations map when you have a ready spreadsheet provided? Now that you've created your map, it's time to discover Mapline's different features. You're in for a big surprise as to just how beneficial those are! To make your map pins look more organized, you may want to cluster them. This is helpful especially when you're giving a presentation. And speaking of presentation, you can also try showing labels, filtering the pins according to their spreadsheet columns, or showing the description bubble. When you click on any pin, a bubble will show up containing all the information for that specific location.
In just a little over a minute, you have created a cool map! Now check out our list of locations data. Who knows – your next dataset may be found from this list of over 5,000 companies! Sign up now to create a Trader Joe's locations map.