Map of U-Haul Truck Rental Locations
Looking for a map showing a list of all the locations of U-Haul truck rental? Mapline will save your day! U-Haul is a moving equipment and storage rental company headquartered in Phoenix, Arizona. The company primarily rents trucks and trailers. It also provides other services like carpet cleaners, itch and trailer wiring installation, LPG refueling, and self storage units. U-Haul was founded in 1945 by Leonard Shoen, then a 29-year old business man. Today, about 55% of the publicly traded stock corporation are controlled by the Shoen family while the remaining percentage is being controlled by AMERCO, a holding company.
You don't need to spend days collating all the locations of U-Haul truck rental. Since we have a dataset of 17,673 U-Haul truck rental locations in the USA, map them all in a few minutes.


Steps to Create a Map of U-Haul Truck Rental Locations
Create a Mapline account and login.
Click the orange "Add Data Layers" button from the left sidebar.
Click "New Map" to create a new map.
Give your map a name and click "Create Map."
Select the "Add Pins from Mapline Data" option.
Now you will see a list of all the datasets (spreadsheets).
Using the Search Box, select "U-Haul" as your dataset.
Click "Done."
You can do so much more when you've experienced how easy it is to build a map! Look at the map below. You can add custom image like a U-Haul logo and make it as your map icon.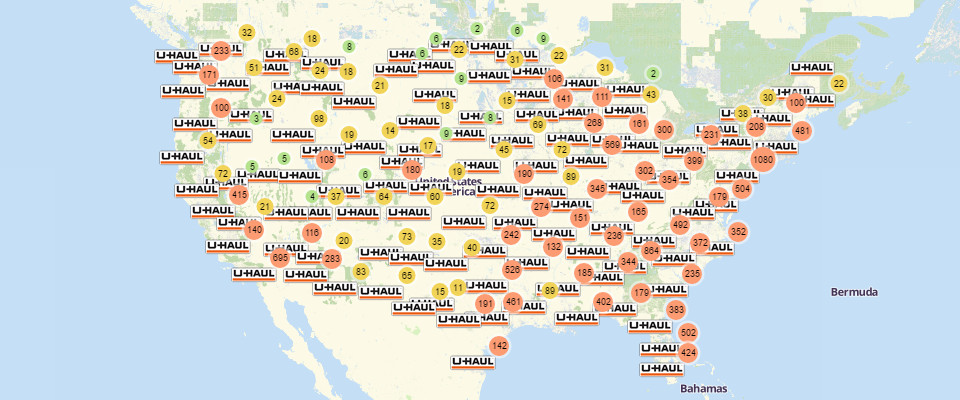 Try spending a few minutes and you'll get the hang of using the distance measurement tools. Draw circles or polygons on a map to create your own territories. Understand how geographical location data affects your business by adding territory boundaries. Meanwhile, heat maps help in developing strategies when faced with market threats or opportunities.
If you need to map in just a few minutes with thousands, Mapline is the place to stay. We offer datasets of more than  5,000 companies worldwide! Sign up now to create a map of U-Haul truck rental locations.