Map Virnig Locations in a Couple of Minutes
There is an easiest way to create a map of Virnig locations with Mapline. Virnig Manufacturing was founded in 1989 by the husband-and-wife team of Dean and Lois Virnig. The company's first office was a 2-car garage in the outskirts of Pierz, Minnesota. At first they do repair work for local farmers and construction companies until they expanded into manufacturing skid steer attachments and dump trailers after only 5 years in the business. Today, Virnig Manufacturing, Inc. is a manufacturer and supplier of premium skid loader attachment to Midwest and nearby regions.
Since we provide data the dataset of Virnig, you can conveniently map all of its 676 locations in minutes.


Steps to Create a Map of Virnig Locations
Create a Mapline account and login.
Click the orange "Add Data Layers" button from the left sidebar.
Click "New Map" to create a new map.
Give your map a name and click "Create Map."
Select the "Add Pins from Mapline Data" option.
Now you will see a list of all the datasets (spreadsheets).
Using the Search Box, select "Virnig Manufacturing" as your dataset.
Click "Done."
Substitute your map pin with a logo of Virnig and you will get a map with more impact.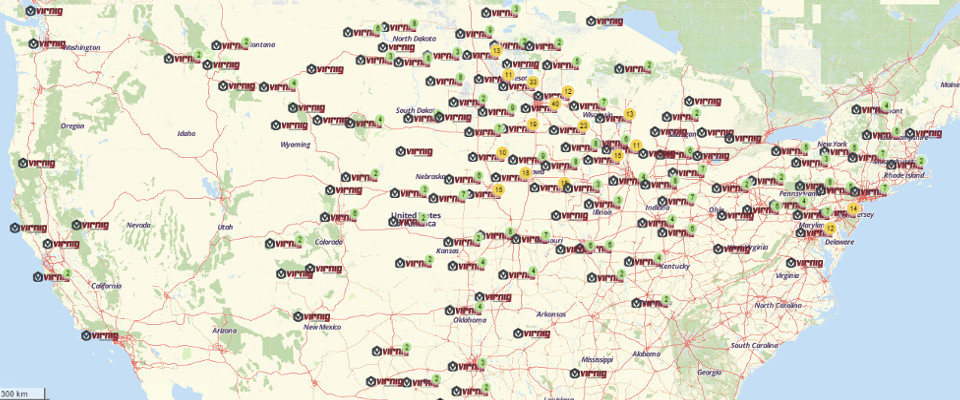 Try adding more features and you will get more value from your map. Some features worth adding are:
Territory overlay -We have hundreds of territory sets for local mapping – states, counties, cities, postal codes, and more.
Map sharing option – Share your map to sales team members, customers, and clients in just one click.
Info in a Bubble – A map pin bubble tells about information for that specific locations. The information comes from your spreadsheet data.
When it comes to mapping location data, push the bar by using Mapline tools! We have more than 4 million locations worldwide from over 4,700 companies. Sign up now to create a map of Virnig locations.