Map Western Union Locations – The Uncomplicated Way
Scraping the internet with all the Western Union locations is definitely time-consuming. With more than 51,000 locations in the USA, it may take you days before you finally collate the last of it. Leave this complicated task to Mapline. We bring you a spreadsheet that contains all 51,024 locations of Western Union. It is a financial services and communications company with headquarters located in Meridian, Colorado. The company rose to popularity as the number 1 company in the business of exchanging telegrams in the United States until 2006. Today, the company is more known as financial center offering different products including business payments, commercial services, money transfer, and money orders.
When the hardest part is over, that will leave you to the easiest task – the uncomplicated way of mapping the dataset.


Steps to Create a Map of Western Union Locations
Create a Mapline account and login.
Click the orange "Add Data Layers" button from the left sidebar.
Click "New Map" to create a new map.
Give your map a name and click "Create Map."
Select the "Add Pins from Mapline Data" option.
Now you will see a list of all the datasets (spreadsheets).
Using the Search Box, select "Western Union" as your dataset.
Click "Done."
And there you have your map without complicating things! To make your map more sensible, try uploading a Western Union logo and customize your markers to be WU markers just like this map: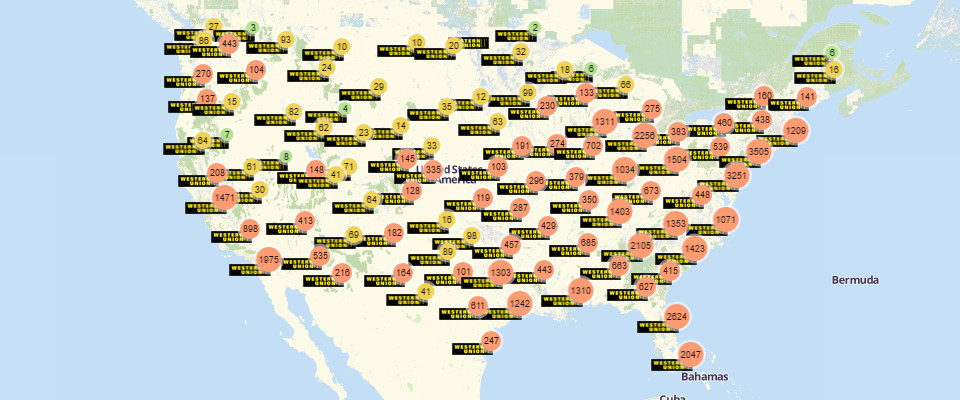 Using other mapping features will help you to uncomplicate analysis of data. For instance, overlaying territory boundaries increase the impact of map visualization by displaying map points on territory boundaries. Heatmapping is another helpful tool to understand location density or sum or average of sales. Showing the labels of the markers can make a great map presentation.
Why complicate mapping when there is a better way to map data sets with thousands of locations using Mapline? Browse here to see the list of more than 5,000 companies and their datasets. Sign up now to create a Western Union locations map.