Map Woodman's Locations in a Snap
Looking for Woodman's locations to map? Mapline has a spreadsheet of all the store locations of Woodman's. Woodman's  is an employee-owned U.S. regional supermarket chain located in Illinois and Wisconsin. It was founded in 1919 and has grown to operate 16 stores. All stores are open 24-7.
Using Mapline, create a map of Woodman's locations in a snap. With just a few simple clicks Mapline makes it the easiest for you to map locations without you scraping the web for location data.

Steps to Create a Map of Woodman's Locations
Create a Mapline account and login.
Click "New Map" to create a new map.
Give your map a name and click "Create Map."
Click the orange "Add Data Layers" button from the left sidebar.
Select the "Add Pins from Mapline Data" option.
Now you will see a list of all the datasets (spreadsheets).
Using the Search Box, select "Woodman's" as your dataset.
Click "Done."
You know what can help your map look good? Customize the map pin by uploading a logo of Woodman's and make it your map icon.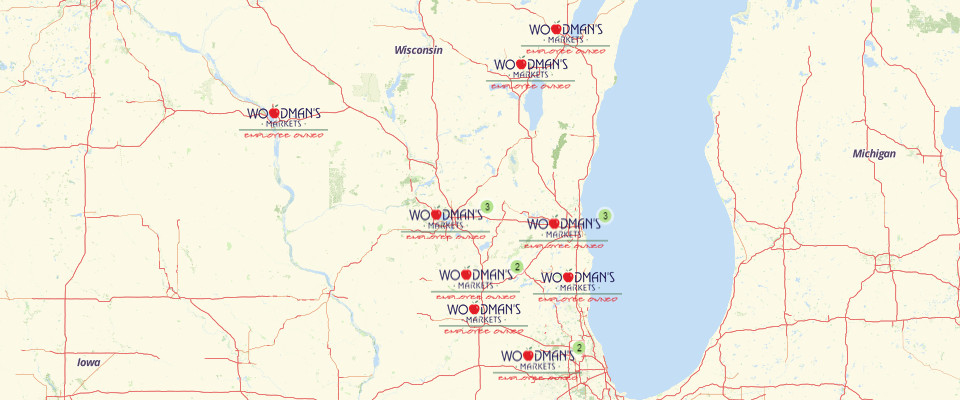 In less than a minute, your Woodman's locations map is ready to view! Make your map shout alive by using more features like clustering pins to help you organize your map pins, showing labels for great map presentation, creating heat maps to know the location density of your data, and adding coverage overlay to identify growth opportunities. Check this out: click a pin and a bubble will show up. It's your cheat sheet of all the information added on the spreadsheet. How cool is that?
Looking for a dataset to map? We have a list of 5,000 plus companies and over 4 million locations! Sign up now to create a Woodman's locations map.