Mapping Chevron Gas Station in the US
Mapping all the locations of Chevron gas station poses a problem. Since there are almost 8,000 locations scattered in the USA alone, it will be time-consuming to scrape the data on the internet. Situations like this calls for Mapline. Yes, we provide the dataset of locations for Chevron gas stations! Chevron is a multinational energy corporation. Although the company's headquarters are located in San Ramon, California in the US, it operates globally. Its gasoline stations can be found in more than 180 countries. Significant areas of operations include Australia, North America, Southeast Asia, South Korea,  South Africa, and the US Gulf Coast.
Let Mapline bring you the easiest mapping task in building a map of Chevron gas stations!


Mapping Chevron Gas Station with Mapline
Create a Mapline account and login.
Click "New Map" to create a new map.
Give your map a name and click "Create Map."
Click the orange "Add Data Layers" button from the left sidebar.
Select the "Add Pins from Mapline Data" option.
Now you will see a list of all the datasets (spreadsheets).
Using the Search Box, select "Chevron" as your dataset.
Click "Done."
If that's good enough for you, wait till you customize your map pins! In just a few clicks, you can upload your preferred image (Chevron logo for example) and make it as your map pin.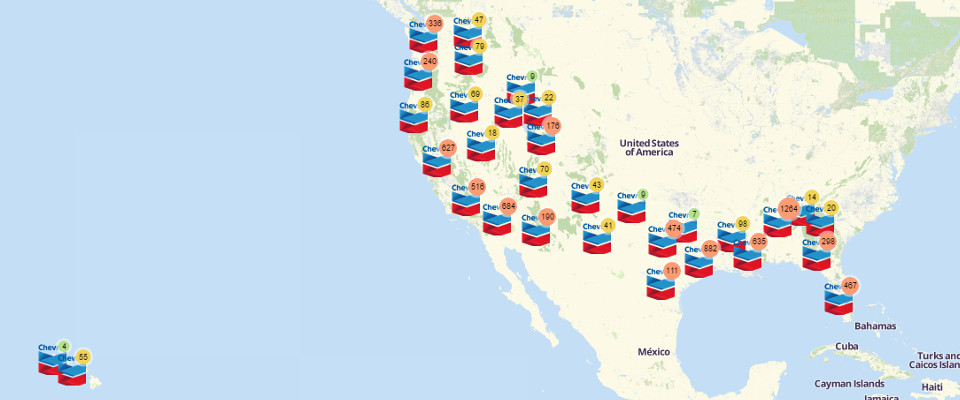 Since you have thousands of pin, Mapline will automatically cluster the pins. However, you have the option to play around that function and cluster the pins according to your preference. What makes building maps with Mapline even cooler is that there are other great features that bring value to your map. You can create heat maps according to location density. You can also try adding territory boundaries or draw custom territories to help you with your sales, marketing, and logistics analysis.
Check out here to learn about the datasets that we provide. Oh, and did we mention we have more than 5,000 companies on our list?! Sign up now to create a map of Chevron gas stations.