Mapping Kwik Trip Locations Fast with Mapline
Telling a map story of Kwik Trip locations is difficult when you don't have a spreadsheet containing all address locations. Good thing Mapline has it ready fore you! Kwik Trip is a chain of convenience stores founded in 1965 in Eau Claire, Wisconsin. There are more than 400 stores operating in different brands such as "Kwik Trip" in Minnesota and Wisconsin while operating as "Kwik Star" in Iowa. Other brands are "Hearty Platter" and "Tobacco Outlet Plus." Its headquarters are located in La Crosse, Wisconsin.
With Mapline, you can start mapping Kwik Trip locations. There are 492 Kwik Trip locations to map.


Steps to Create a Map of Kwik Trip Locations
Create a Mapline account and login.
Click "New Map" to create a new map.
Give your map a name and click "Create Map."
Click the orange "Add Data Layers" button from the left sidebar.
Select the "Add Pins from Mapline Data" option.
Now you will see a list of all the datasets (spreadsheets).
Using the Search Box, select "Kwik Trip" as your dataset.
Click "Done."
Make your map story come alive by uploading a Kwik Trip logo and turn it as your map icon just like this: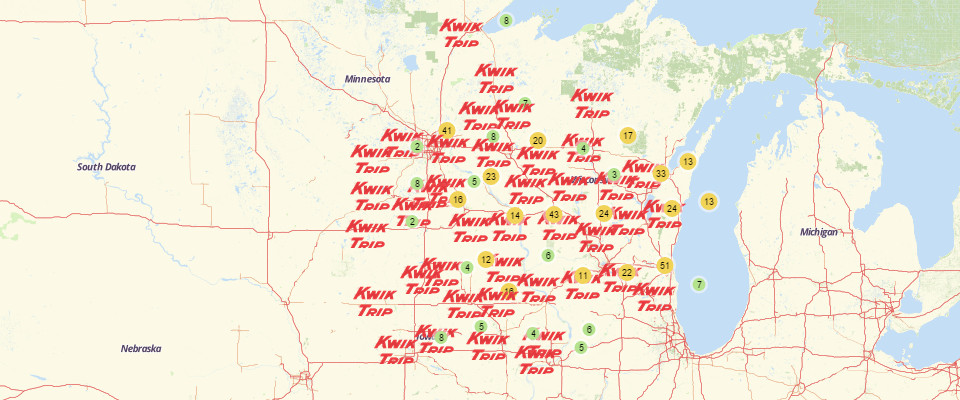 Your map story can still be more interesting when you add more features. At the left sidebar beside the dataset, click the drop down arrow and choose any features to make your map pop out with meanings. You may find that a simple label can help to distinguish the pin locations. Or be amazed how far creating a heat map or adding coverage overlay can do on your analysis. Take advantage of the filter option where you can filter not only the names but every columns of your spreadsheet to show or hide the pins that matter more to your current analysis.
A meaningful map story begins with a simple spreadsheet of address locations. Check our list of datasets of more than 5,000 companies. Sign up now to create a Kwik Trip locations map.