Mapping Locations of Armstrong Flooring with Mapline
Why choose Mapline to map locations of Armstrong Flooring? To give you a brief background about the company, Armstrong Flooring is an industry-leading manufacturer of flooring products focusing on design, durability, and performance. Its world-wide headquarters is located in Lancaster, Pennsylvania and operates 17 plants in 3 countries. The company was founded in 1860 by Thomas Armstrong, a Scotch-Irish immigrant from Londonderry.
So why choose Mapline? We'll give you 3 among many other reasons:
It is the easiest mapping tool on the planet.
It provides powerful map visuals for data analysis.
It provides a dataset of Armstrong Flooring locations.


Steps to Create a Map of Armstrong Flooring Locations
Create a Mapline account and login.
Click the orange "Add Data Layers" button from the left sidebar.
Click "New Map" to create a new map.
Give your map a name and click "Create Map."
Select the "Add Pins from Mapline Data" option.
Now you will see a list of all the datasets (spreadsheets).
Using the Search Box, select "Armstrong Flooring" as your dataset.
Click "Done."
As you map the locations, you would find out that customizing the map pins is way easier! Just upload the logo of Armstrong Flooring and make it your map pin.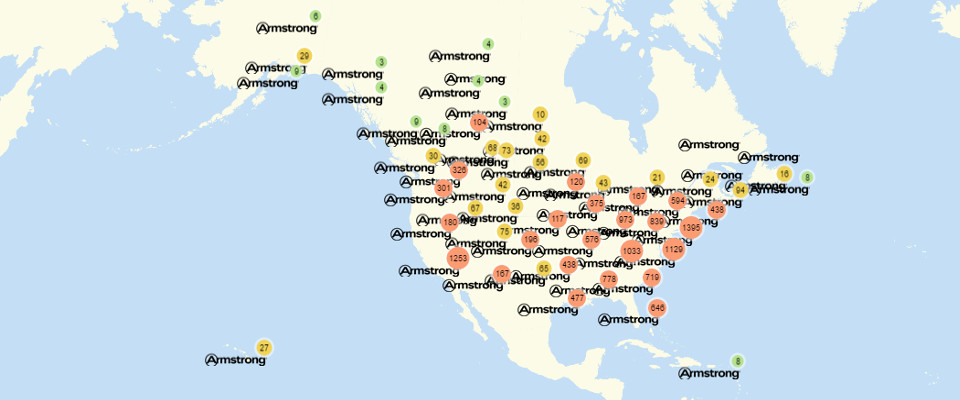 There are many other features that can be done with your map. You can create heat maps to help you identify growth opportunities or focus on marketing campaigns. You can also add multiple layers of location data. This will help you learn about the competitions, new market, and your customers' behavior. Sharing newly found insights across the your network will increase the levels of competitive intelligence. So share your maps with your team in just a matter of seconds!
So when looking for datasets to map, trust Mapline. We have more than 4 million locations from over 5,000 companies worldwide.  Sign up now to create a map of Armstrong Flooring locations.