Mapping Locations of Exmark Dealers with Mapline
Mapping locations of Exmark dealers is easy when Mapline tools are used. Exmark Manufacturing was founded in May 1982. The company began in a garage-type building south of Beatrice Nebraska with only 7 employees. At first it manufactures professional turf care equipment until 1987. However, the competition became stiff that it decided to expand its product line to include commercial riding mowers. Since then Exmark has a network of dealers to sells their products.
Mapline provides the tools to create maps in minutes. We provide more than a thousand locations of Exmark dealers.


Steps to Create a Map of Locations of Exmark Dealers
Create a Mapline account and login.
Click the orange "Add Data Layers" button from the left sidebar.
Click "New Map" to create a new map.
Give your map a name and click "Create Map."
Select the "Add Pins from Mapline Data" option.
Now you will see a list of all the datasets (spreadsheets).
Using the Search Box, select "Exmark Manufacturing" as your dataset.
Click "Done."
When you add custom image and use the Exmark logo, you'll be surprised to learn how powerful your map visual will turn out.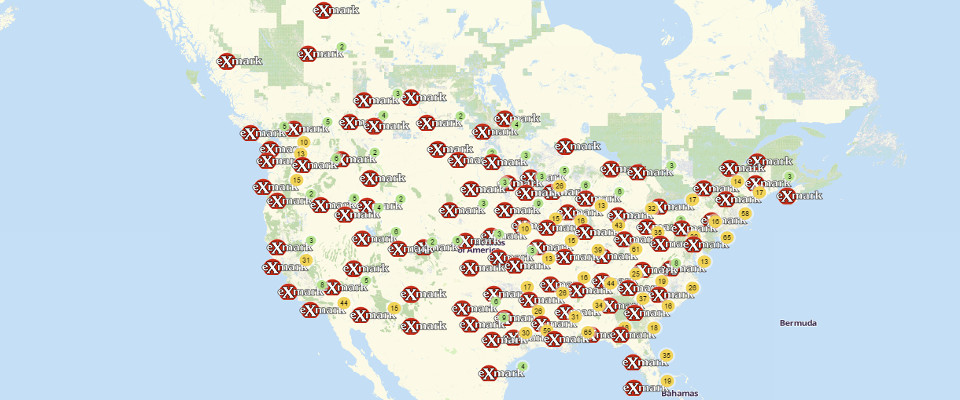 That's how easy it is to map locations of Exmark dealers! Combine layers of location data to improve your business planning and analysis. You can also filter your dataset to perform in-depth analysis across your network, or in an area, or down to an individual store to help you identify market potential and opportunities. Assign different colored map markers to represent different layers of data. Studying their patterns and connections with each other can give smart insights for business planning.
Let Mapline help you map out your desired company locations data. We offer more than 5,000 companies and over 4 million locations! Sign up now to start mapping locations of Exmark dealers.