Mapping Safeway Stores Reveals so Much More
Stop looking elsewhere for a locations dataset of Safeway stores! Mapline provides a dataset containing the locations of Safeway convenience stores. Safeway is one of the largest food and drug retailers in the USA. It is a chain of supermarket stores operating in Western, Central, and Mid-Atlantic regions of the USA. The headquarters are located in Pleasanton, California. The company was founded in 1915 by M.B. Skaggs in Idaho. Today, Safeway is named as the 11th largest retailer in the USA. In fact, it runs more than a thousand stores in 19 states.
We got the dataset of Safeway Stores. All you need is a minute or less to map 907 Safeway stores in the US.


Steps to Create a Map of Safeway Stores
Create a Mapline account and login.
Click "New Map" to create a new map.
Give your map a name and click "Create Map."
Click the orange "Add Data Layers" button from the left sidebar.
Select the "Add Pins from Mapline Data" option.
Now you will see a list of all the datasets (spreadsheets).
Using the Search Box, select "Safeway" as your dataset.
Click "Done."
That's all you need to do to create a map! You can do much more than just uploading the dataset. Be more creative by customizing the pins. Upload a Safeway Stores logo and turn it as your pin image.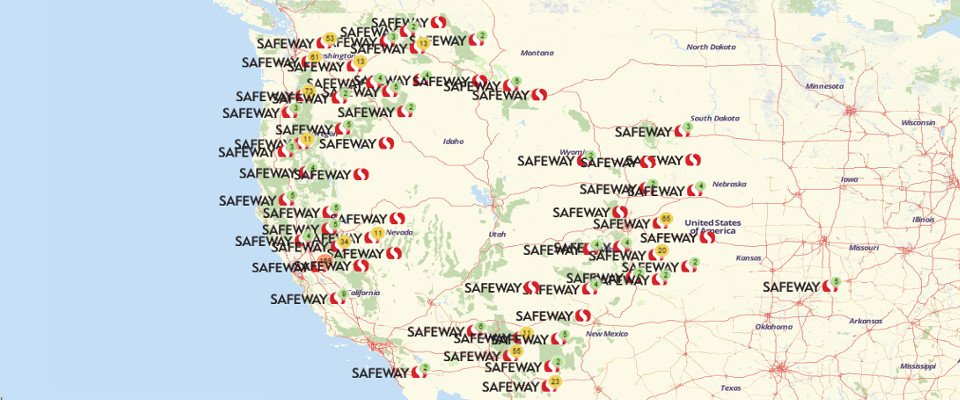 A bunch of features is available for you to try to make your map more enticing. For instance, take advantage of the option where you can click on any pin and you will discover a bubble with all the spreadsheet detail of that location. For great presentations, you can show the labels or cluster the pins. You can even filter the pins by their distinct characteristics and show or hide which pins you would want to appear on the map.
Create not just a map but a Mapline map that makes your company really look good! Check out from this list of more than 5,000 companies and more than 4 million locations to map! Sign up now to create a Safeway Stores map.