Mapping Shell Gas Stations Made More Sense with Mapline
There is too much time to be wasted when collating all the Shell gas stations in the USA. But when you turn to Mapline, mapping Shell locations will be made a lot more easier because we provide the dataset (spreadsheet of 14,926 locations) of Shell Oil. Shell is a leading oil and gas producer recognized globally. The foundation of the company goes as far back as 1912 when Shell Group founded the American Gasoline Company to sell oil and gas products along the Pacific Coast. Shell products include card services, fuels, oils, and petroleum products. The US headquarters are located in Houston Texas.
Using Mapline, map Shell gas stations easier. With just a few clicks,your map showing close to 15,000 locations of Shell gasoline service stations will be available to view in a manner of minutes.


Steps to Create a Map of Shell Gas Stations
Create a Mapline account and login.
Click "New Map" to create a new map.
Give your map a name and click "Create Map."
Click the orange "Add Data Layers" button from the left sidebar.
Select the "Add Pins from Mapline Data" option.
Now you will see a list of all the datasets (spreadsheets).
Using the Search Box, select "Shell Oil" as your dataset.
Click "Done."
When the dataset is added, go ahead and customize your map pin. The steps are so easy you can do it in less than a minute!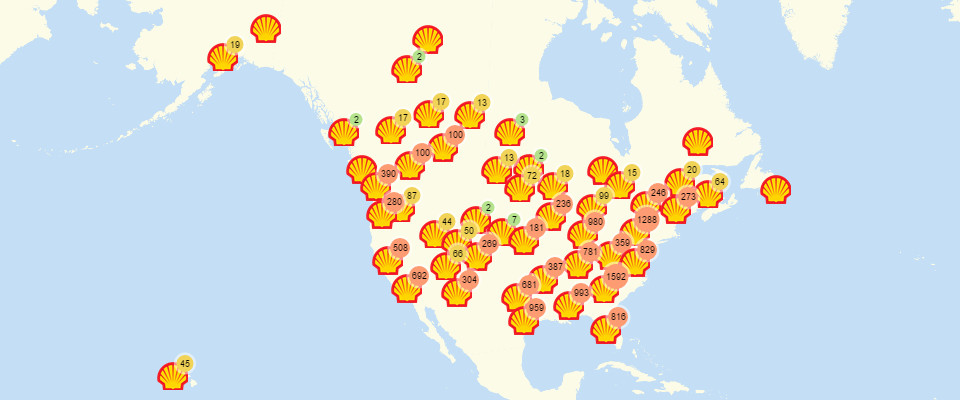 You will notice that the pins are automatically clustered. But you can adjust how they are clustered by playing around the cluster feature. With Mapline, you can make awesome map presentations. Start by showing the labels. Display information that you want to be shown on your presentation. Or you can take advantage of the bubble when you click on any pin. It serves as a cheat sheet of your spreadsheet information.
Make more sense with your mapping by using Mapline's provided data. Browse from over 5,000 companies and more than 4 million locations worldwide! Sign up now to create a Shell gas stations map.