Visualizing all Whole Foods Market Locations in a Map
Create a Whole Foods Market Locations Map
Mapping locations of grocery chains like Whole Foods Market locations can be done easily with Mapline. Whole Foods Market is a supermarket chain founded by the owners of Safer Way Natural Foods, John Mackey and Renee Lawson Hardy; and Craig Weller and Mark Skiles, owners of Clarksville Natural Grocery. The stores offer foods with no artificial colors, flavors, hydrogenated fats, preservatives, and sweeteners. It is the 1st certified organic grocer in the USA. The first store was opened in 1980 in Austin, Texas. At that time, there were only 19 employees. Today, there are 431 Whole Foods store locations employing 91,000 people. It's the 30th largest retailer in the USA.
These facts demonstrate the strength Whole Foods has in the retail and especially organic foods market. If you're a business analyst looking to understand the relationship between Whole Foods store locations and your own business, utilize retail store mapping to visualize the connections.


Visualizing a Map of Whole Foods Stores in USA
Using Mapline, creating a map of Whole Foods locations map is no longer a hassle. We have the spreadsheet of the company's store locations that we can share with you!
Steps to Create a Map of Whole Foods Store Locations
Create a Mapline account and login.
Click "New Map" to create a new map.
Give your map a name and click "Create Map."
Click the orange "Add Data Layers" button from the left sidebar.
Select the "Add Pins from Mapline Data" option.
Now you will see a list of all the datasets (spreadsheets).
Using the Search Box, select "Whole Foods Market" as your dataset.
Click "Done."
Map stories will unfold better when you upload a Whole Foods Market logo and make it as your map icon just like the map below: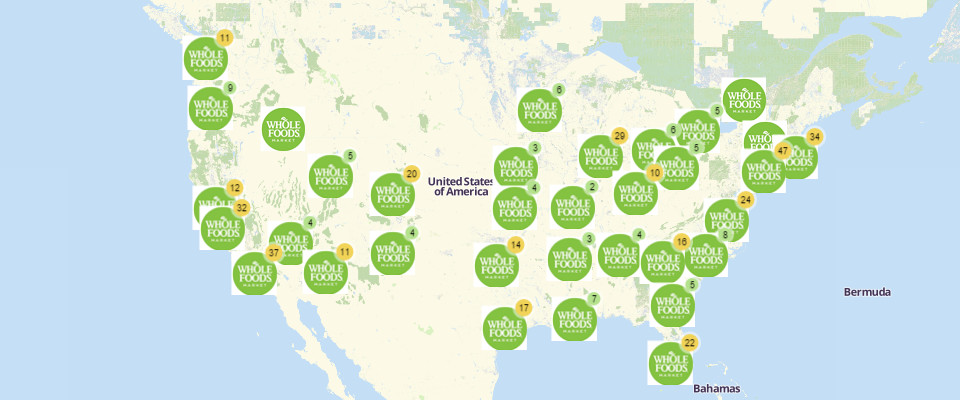 And that's just the start of it! Add more features and you'll uncover map stories that will now be easily identifiable because of the awesome visualization. Try adding sublayers or coverage overlay and see where your data story will take you. Better yet, filter the map pins so you will only see the pins according to their distinct characteristics. Finally, create a heat map to view the location density.
Creating a map with Excel spreadsheet data will give you the edge in visualizing your data. Here is the list of all the datasets of more than 5,000 companies that Mapline provides for your easy mapping needs.