What a Map of DHL Locations is Telling You
Here's another best thing about Mapline: You don't need to hire an intern to get you all the locations of DHL Express. Mapline got you covered! DHL Express a division of Deutsche Post, a German logistics company. It was originally founded in 1969. DHL stands for the last names of the founders Adrian Dalsey, Larry Hillblom, and Robert Lynn. Deutsche Post began to acquire shares in DHL in 1988 and completed the purchase in 2002. Today, Deutsche Post is the largest logistics company in the world. It operates around the world, particularly in sea and air mail.
Just a few clicks away and you're headed on to view your map showing more than 5,000 DHL locations in the USA. Mapline also DHL locations in Canada and Germany.


Steps to Create a Map of DHL Locations
Create a Mapline account and login.
Click the orange "Add Data Layers" button from the left sidebar.
Click "New Map" to create a new map.
Give your map a name and click "Create Map."
Select the "Add Pins from Mapline Data" option.
Now you will see a list of all the datasets (spreadsheets).
Using the Search Box, select "DHL" as your dataset.
Click "Done."
To make a more powerful visual, customize the map pin by uploading a DHL logo and turn it into your map pin.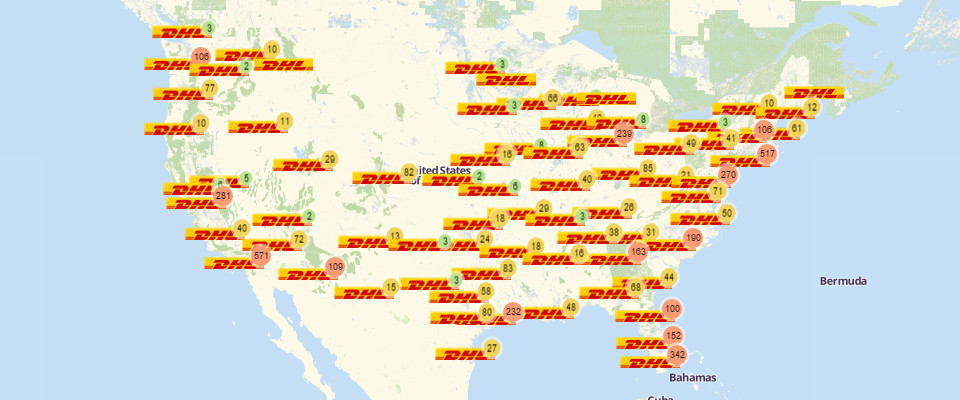 What a map of DHL locations will tell you is more than just meets the eye. As you add more functions, you add more value to the visualization resulting in effective analysis.
Filter visible locations. Show or hide your map pins according to their distinct characteristics. Click the filter icon on the left sidebar to see all the information. This option will help you focus on your view.
Overlay territory boundaries. Overlay boundaries such as counties, states, and zip codes. Then click on a territory to export a list of all the locations inside. We offer hundreds of territories to be added to your map.
Heatmap territory colors. Your spreadsheet containing numbers will turn into colored territories with Mapline. Overlay your territory and fill it with colors according to total sales or other metric from your spreadsheet data.
You might want to check out our list of datasets. Check out from more than 5,000 companies and over 4 million locations worldwide! Sign up now to create a map of DHL Locations.