What You can Achieve When Looking at a Map of Auto Value Stores
You might be missing a lot of things when locations of your stores or your competitors aren't mapped. There are a lot of benefits that are brought by map visualization. Perhaps you're into sales and marketing, supply or logistics. Through mapping, you will discover significant details and connections. Take Auto Value as an example. Auto Value is a company that offers automotive products. With headquarters located in San Antonio, Texas, it has 140 plus distribution centers, 2,300 parts stores, and 2,900 certified service centers in the USA. It also delivers almost 2 million auto parts and accessories to the automotive aftermarket.
Looking at a map of Auto Value stores, or other store locations, you can achieve a higher level of data analysis. Start building a map showing more than 5,000 Auto Value stores.


Steps to Create a Map of Auto Value Stores
Create a Mapline account and login.
Click the orange "Add Data Layers" button from the left sidebar.
Click "New Map" to create a new map.
Give your map a name and click "Create Map."
Select the "Add Pins from Mapline Data" option.
Now you will see a list of all the datasets (spreadsheets).
Using the Search Box, select "Auto Value" as your dataset.
Click "Done."
To reach the utmost visual potentials of your map, try adding different options. Start with customizing your map markers by uploading a logo. The map below shows the pins with Auto Value logo.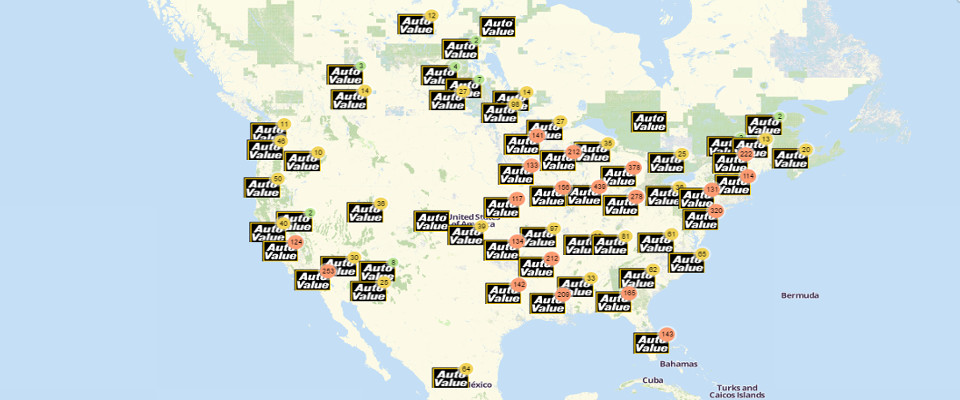 Achieve more value in mapping Auto Value stores! Create a radius map to understand the spatial connection between your data. This will help you focus more on a particular area and identify connections within the radius circle. On the other hand, territory maps help allocate sales teams, cultivate better leads, manage sales territories, and optimize delivery schedules. Imagine more value that you can get when you map multiple locations! Because of Mapline's ultra-fast geocoding, it allows the users to map different locations in a snap.
You will achieve these benefits not only when mapping the locations of Auto Value stores. There are a lot of Auto and Home Supply stores that you can choose to map. In fact, we offer datasets of locations of more than 5,000 companies. Sign up now to create a map of Auto Value stores.