Develop Your Data Visualization by Mapping Meijer Locations
Would you spend countless hours scraping the internet just to get all Meijer locations? Or would you rather use Mapline since we have the dataset of Meijer stores? Meijer is a chain of stores primarily located in Michigan. Other stores are scattered around Illinois, Indiana, Kentucky, Ohio, and Wisconsin. Meijer was founded by a Dutch immigrant named Hendrik Meijer in 1934. It was one of the first stores to offer self-service shopping and the use of shopping carts.
With just a few clicks, it is very easy and fast to create a map of Meijer stores. There are 223 Meijer locations available to map.


Steps to Create a Map of Meijer Locations
Create a Mapline account and login.
Click "New Map" to create a new map.
Give your map a name and click "Create Map."
Click the orange "Add Data Layers" button from the left sidebar.
Select the "Add Pins from Mapline Data" option.
Now you will see a list of all the datasets (spreadsheets).
Using the Search Box, select "Meijer" as your dataset.
Click "Done."
Want to visualize your locations even better? Then use custom images for your pin. For example, upload a Meijer logo and turn your pin like the map below: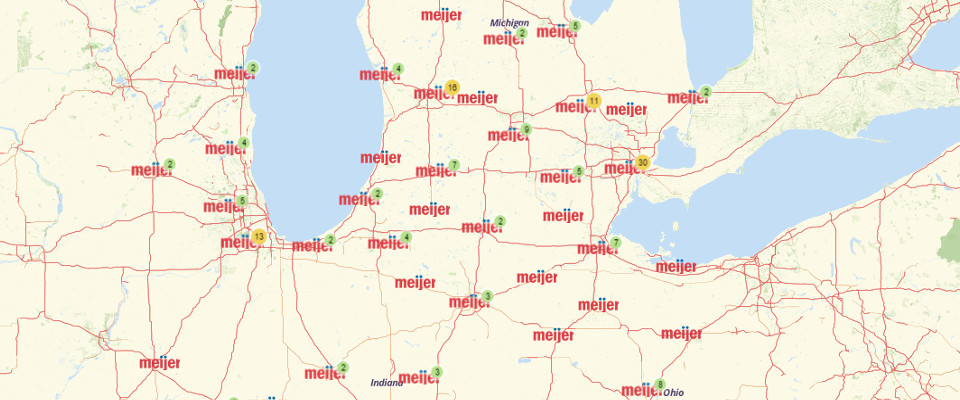 Enhance your data visualization even further by using other mapping options. Add labels to distinguish your locations. Add more locations to learn more about your competition. Filter your data to know the distinct characteristics of your locations. Click any pin on the map to show the bubble. It is like a cheat sheet that is much easier to read than a spreadsheet.
After adding your needed Mapline-provided data set, check out others dataset. We have more than 5,000 companies and 4 million plus locations that you can choose from. Sign up now to create a Meijer locations map.