Generate a Dot Density Map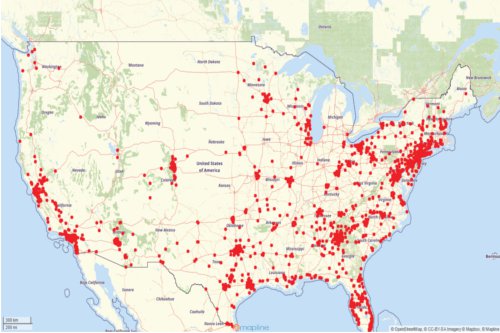 Examine spatial patterns with dot distribution map
Have you struggled with doing spatial analyses in the past? If so, a dot density map is an ideal solution for identifying and examining spatial patterns. A dot density map presents the differences of location density distributed geographically across a landscape.
Let's take an example. Say you want to open a new retail store, but you're not entirely sure what the best location is. You want your store to be in a populated area, but you want to avoid streets that have a lot of car accidents. With Mapline's dot distribution mapping software, you can plot car accidents on your map and the dots will show you what areas tend to have higher volumes of car accidents.
With Mapline, dot mapping is not only easy to understand, but it is also easy to create a map of your own that fits your specific industry and business needs. Here's how to create your own dot distribution map:
Steps to create a dot density map
Open your map.
Click the dropdown button on the left sidebar.
Choose "Dot Density" option.
Select your preferred dot color, transparency, and size.
Click the small checkbox if you want the markers to show on your map. If you don't want the markers to appear, the checkbox is checked by default.
Click the "Save" button.