Make a Map of Locations of Stewart's Shops
The locations of Stewart's Shops are so easy to map with Mapline. Stewart's Shops, a privately-held company, is a chain of convenience stores that are strategically located in Upstate New York and Vermont. The headquarters are located in Saratoga Springs. 2/3 of the business are owned by the Dake family who started the business in the early 1915. 1/3 of the business is owned by the employees.
Mapline provides a spreadsheet containing all the locations of Stewart's Shops so it will be super easy for you to map all 332 of them.
Steps to Create a Map of Stewart's Shops
Create a Mapline account and login.
Click "New Map" to create a new map.
Give your map a name and click "Create Map."
Click the orange "Add Data Layers" button from the left sidebar.
Select the "Add Pins from Mapline Data" option.
Now you will see a list of all the data sets (spreadsheets).
Using the Search Box, select "Stewart's Shops" as your data set.
Click "Done."
Here's another cool part in making a Stewart's Shops map with Mapline. Instead of viewing your map with all the orange-colored tear-shaped pins, you can actually customize your pins! For instance, after uploading a logo of Stewart's Shops, turn it as your map pin!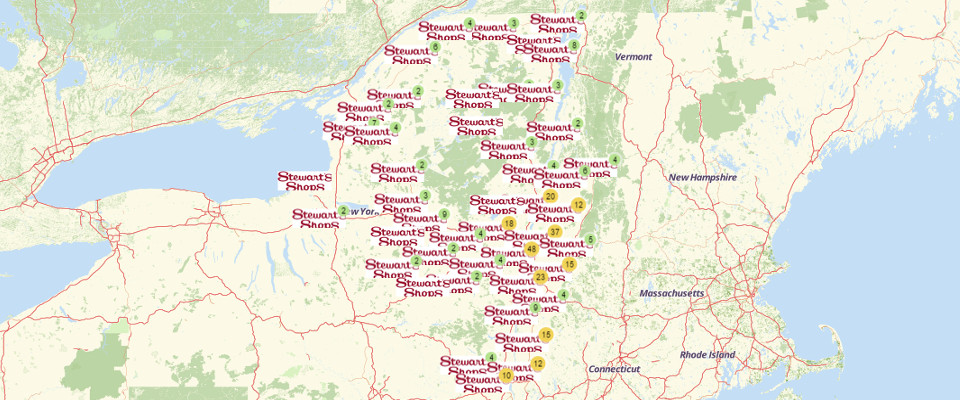 Take control on how your map would look like. You can cluster the pins like the map shown above. You can also use the filter option so you can show or hide only the locations that you want to appear on the map. You can also draw custom territories if you want to group your pins together in particular areas. Or add territory boundaries and your map will scream with an impact.
Looking for easy mapping? Only Mapline provides data sets of locations of 4,700 companies … and counting! Sign up now to create a locations of Stewart's Shops map.