Make Your Piggly Wiggly Locations Map Look Even Better
You can save yourself a lot of headaches when you use Mapline-provided dataset instead of scraping the web just to search for all Piggly Wiggly locations. Piggly Wiggly is a supermarket chain located in the Southern and Mid-Western regions of the USA.  Its headquarters are located in Keene, New Hampshire. After more than a hundred years in grocery business, Piggly Wiggly stores are now scattered all throughout 17 states. It made a mark in the history in 1916 when it opened its first outlet in Memphis, Tennessee. It is the first of its kind to provide checkout stands and provide shopping carts for customers, and price mark each item.
Stop going through the hassles of scraping the web just to get all the store locations of Piggly Wiggly and collate them on a spreadsheet. That's Mapline's job! The only thing you have to do is to map.


Steps to Create a Map of Piggly Wiggly Locations
Create a Mapline account and login.
Click "New Map" to create a new map.
Give your map a name and click "Create Map."
Click the orange "Add Data Layers" button from the left sidebar.
Select the "Add Pins from Mapline Data" option.
Now you will see a list of all the datasets (spreadsheets).
Using the Search Box, select "Piggly Wiggly" as your dataset.
Click "Done."
You can make your map look good by customizing your map pin. Upload a Piggly Wiggly logo and make it your map icon just like this map: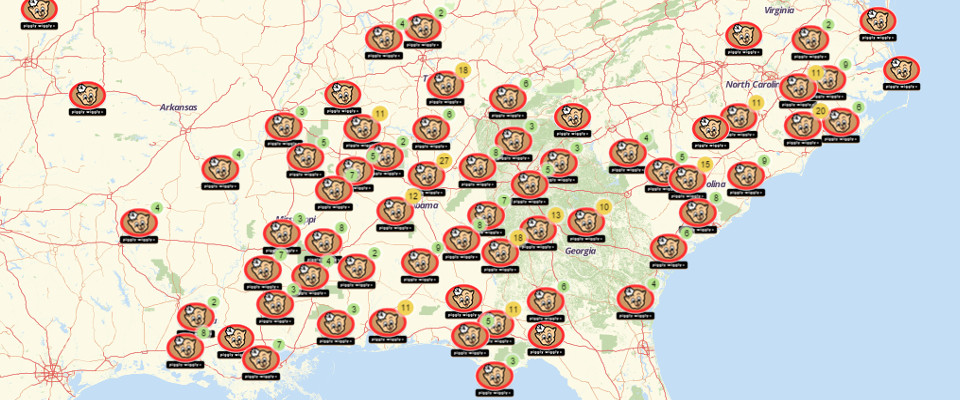 By trying out more mapping features, you will look good when your map looks good! Here are other options that you can add:
Say goodbye to time-consuming scraping for data locations! Here's Mapline-provided datasets for more than 5,000 companies to choose from. Sign up now to create a Piggly Wiggly locations map.