Map of Food Lion Locations
You don't need to hire someone to collate all Food Lion locations for you. Mapline provides data set locations of more than 5,000 companies and Food Lion is included! Food Lion is a grocery store company with more than 1,100 stores operating in 10 states of the South-Eastern and Mid-Atlantic regions of the USA. It was founded in 1957 by  Ralph Ketner, Brown Ketner, and Wilson Smith. Its headquarters are located in Salisbury, North Carolina.
Using Mapline, building a map of Food Lion locations is fast and easy! Map more than a thousand locations of Food Lion across the US.
Steps to Create a Map of Food Lion Locations
Create a Mapline account and login.
Click "New Map" to create a new map.
Give your map a name and click "Create Map."
Click the orange "Add Data Layers" button from the left sidebar.
Select the "Add Pins from Mapline Data" option.
Now you will see a list of all the data sets (spreadsheets).
Using the Search Box, select "Food Lion" as your data set.
Click "Done."
Make your map shout alive by customizing your map pin. It's as easy as plotting all the pins! Just upload a Food Lion logo and select it to be your pin image.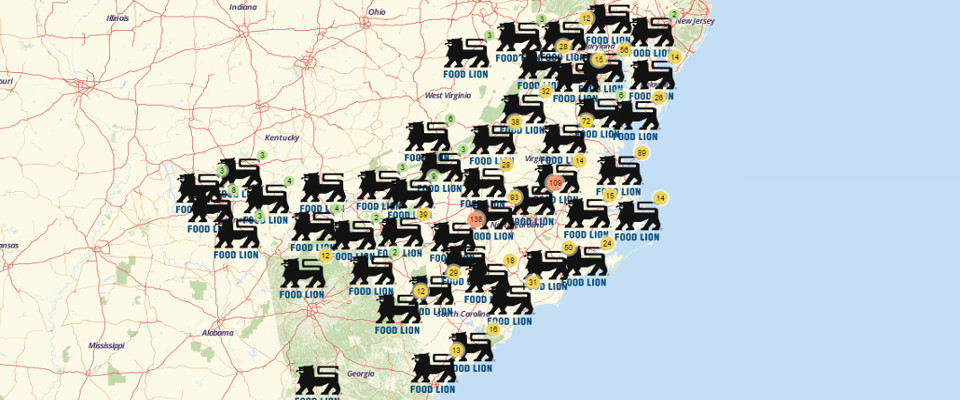 Once you have your map, that's when the more interesting part begins. On the left sidebar, you will notice a drop down arrow beside the data set. Click it and you'll be shown some interesting features that can help you with mapping and data analysis. Feel free to try the options on showing labels, using the sub-layers, clustering the pins, and more! Another awesome feature is the bubble. It's a cheat sheet of the information provided in the spreadsheet. So go ahead and click any pin and a bubble will appear containing that information.
Mapline provides more than 4 million locations worldwide. The next location data that you're looking for might be sitting in this list. Sign up now to create a Food Lion locations map.