Map of Food 4 Less Locations
Looking for an easier way to map Food 4 Less locations without scraping the internet? Mapline brings you not just an easier way but the easiest way! Food 4 Less, a national warehouse store grocery, is one of its kind since it allows the customers to bag their own groceries at the checkout. It is owned by Kroger and operates as "Food 4 Less" stores in the states of California, Illinois, Indiana, and Ohio, while operating as "Foods Co." in some states where Kroger does not have the rights to use the "Food 4 Less" name. There are also stores in Central and Northern California bearing the "Food 4 Less" name as part of franchise agreements with different wholesalers such as Associated Wholesale Grocers Midwest and Unified Western Grocers.
Using Mapline, you can easily create a map of Food 4 Less locations.


Steps to Create a Map of Food 4 Less Locations
Create a Mapline account and login.
Click "New Map" to create a new map.
Name your map and click "Create Map."
Click the orange "Add Data Layers" button from the left sidebar.
Select the "Add Pins from Mapline Data" option.
Now you will see a list of all the datasets (spreadsheets) available to you.
Using the Search Box, select "Food 4 Less" as your dataset.
Click "Done."
8 simple steps and bam! Your map could look like the image below. It's also a good option to upload a Food 4 Less logo and customize the map pin. This is especially helpful when showing the map in presentations.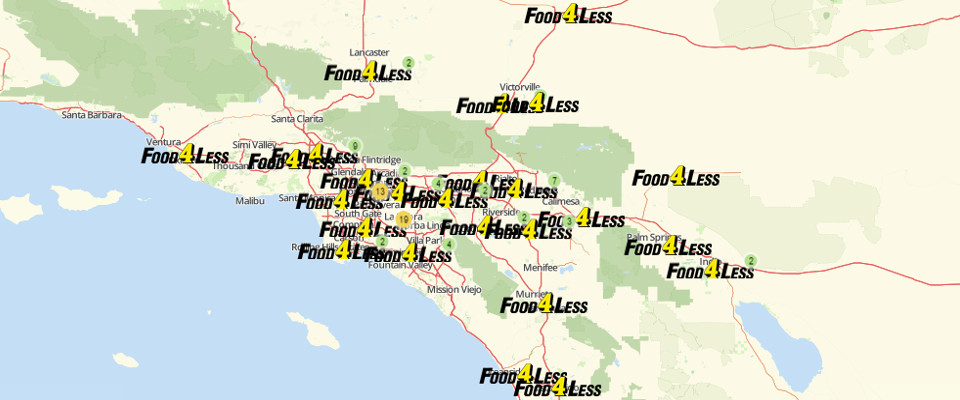 Just like that and your map of Food 4 Less locations is ready to view! That's just the start because there are a lot of mapping options that you can try including clustering pins, creating heat map, showing labels and adding coverage overlays. Easily check out the summary information about the locations when you click on the map pin to show the bubble.
Sign up now to create a map of Food 4 Less locations. Thinking of what to map next? Browse our list of more than 5,000 companies and over 4 million locations worldwide!