Map of Ruler Foods Locations
There is an easiest way to map Ruler Foods locations with Mapline. Ruler Foods, a discount banner of JayC Food Stores, is a grocery chain scattered around the states of Illinois, Indiana, Ohio, Kentucky, Missouri, and Tennessee. It was acquired and operated by Kroger since 1999. Some of Ruler Foods stores were conversions from JayC stores. A typical Ruler Foods store has 20,000 square feet, providing grocery items where 80% it offers are Kroger Brand. The store allows the customers to bag their own groceries at the checkout. Ruler Foods has no pharmacy and no fuel center.
Why look for some place else when Mapline provides the data set needed to map Ruler Foods locations? In just a little less than a minute, you can map all 37 stores of Ruler Foods.
Steps to Create a Map of Ruler Foods Locations
Create a Mapline account and login.
Click "New Map" to create a new map.
Give your map a name and click "Create Map."
Click the orange "Add Data Layers" button from the left sidebar.
Select the "Add Pins from Mapline Data" option.
Now you will see a list of all the data sets (spreadsheets).
Using the Search Box, select "Ruler Foods" as your data set.
Click "Done."
If you find adding the data set easy, you would be thrilled to try other mapping options. Let's start with customizing your map pin with a Ruler Foods logo so your map would look like this: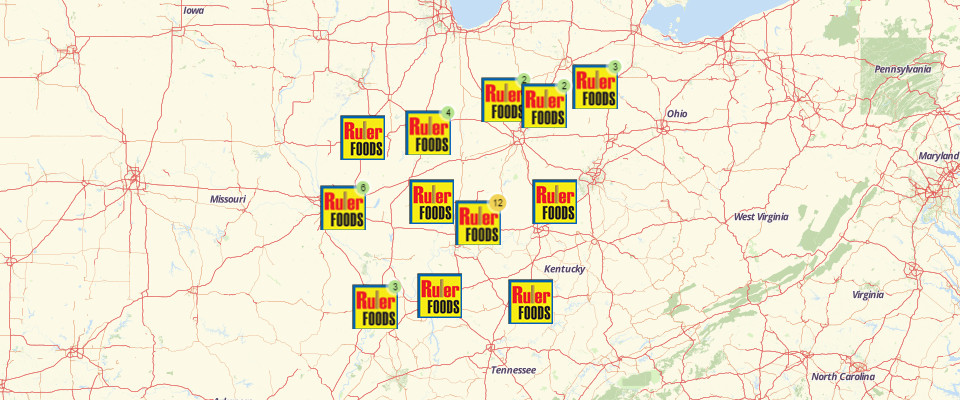 Mapping Ruler Foods locations with Mapline will take just a few minutes of your time instead of wasting hours scraping the web for locations of Ruler Foods. Enhance your mapping experience as you play around other features like showing labels, clustering pins, adding coverage overlay, and creating heat maps. Click a location and a bubble will appear showing the summary information of that location including the name, address, hours of operation, and contact number. Sign up now to create a Ruler Foods locations map.