Map of Turkey Hill Stores
Turkey Hill stores can now be easily mapped with Mapline because we have the location data ready for you. Turkey Hill is a household name of iced tea, ice cream and other beverages as well as frozen desserts distributed locally and globally. Its headquarter is located in Lancaster County, Pennsylvania. The company is operated by Turkey Hill Minit Markets in Indiana, Ohio, and Pennsylvania. The store chain has more than 260 gas station convenience stores that carry Turkey Hill products. In 1985, Turkey Hill was sold to Dillons, a subsidiary of The Kroger Company.
There are 268 Turkey Hill stores in the USA to map. Start napping them now!
Steps to Create a Map of Turkey Hill Stores
Create a Mapline account and login.
Click "New Map" to create a new map.
Give your map a name and click "Create Map."
Click the orange "Add Data Layers" button from the left sidebar.
Select the "Add Pins from Mapline Data" option.
Now you will see a list of all the data sets (spreadsheets).
Using the Search Box, select "Turkey Hill" as your data set.
Click "Done."
When the pins are mapped, you can customize them and turn it into a Turkey Hill logo. Your map would look like this: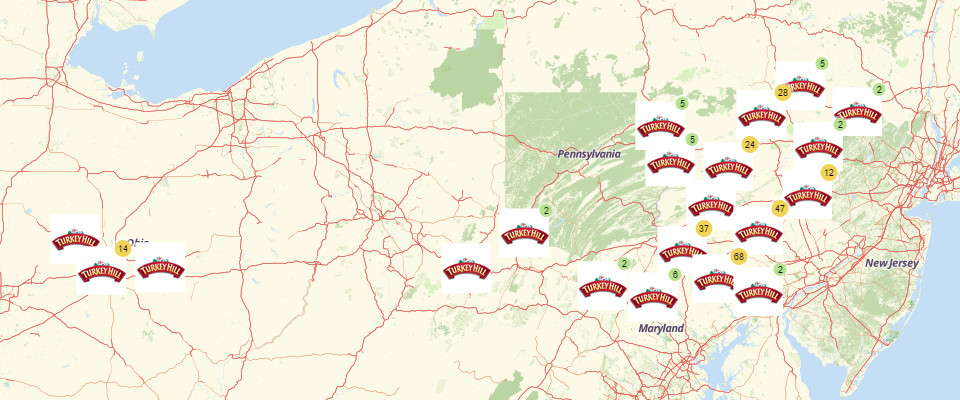 Is that easy or what? Try play around different mapping options to create a map of Turkey Hill stores with an impact! For instance, to enhance map presentations or embed a map, you may want to show labels of the pins. Click any pin and a bubble will appear. It makes it super simple to access the location information. Or, you can categorize your map pins according to their distinct characteristics and filter them to show or hide locations on your map.
Surf here to find the data set of the companies that you're looking for! Sign up now to create a Turkey Hill stores map.