Map of Winn Dixie Locations
Looking for an easier way to collate all Winn Dixie locations and map them? Mapline provides you with a spreadsheet detailing the locations of Winn Dixie stores. Winn Dixie is a supermarket chain in the USA. It was founded in 1925 and its name was first used in 1955. Winn Dixie currently operates 485 stores in South Eastern part of the US like Florida, Alabama, Louisiana, Georgia, and Mississippi. It was founded by William Milton Davis and his sons.
Using Mapline, you don't need to spend hours (even days!) just to list down all the locations of Winn Dixie stores. Map all Winn Dixie locations in the USA in a snap!
Steps to Create a Map of Winn Dixie Locations
Create a Mapline account and login.
Click "New Map" to create a new map.
Give your map a name and click "Create Map."
Click the orange "Add Data Layers" button from the left sidebar.
Select the "Add Pins from Mapline Data" option.
Now you will see a list of all the data sets (spreadsheets).
Using the Search Box, select "Winn Dixie" as your data set.
Click "Done."
This is where the fun begins. Upload a Winn Dixie logo and customize the map pin so your map would look just like the map below: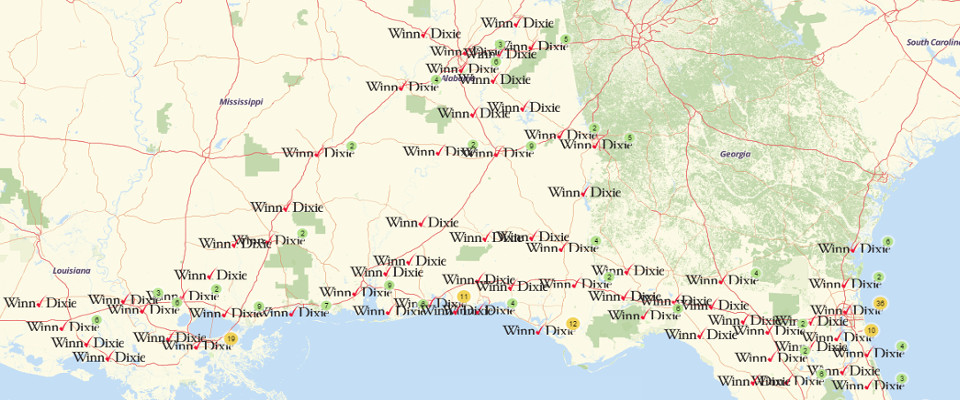 You can do so much more once the data set is added! Try different options found at the drop down arrow beside the data set. To help your audience distinguish the pins, you can show the labels or click any pin to show the bubble that shows the spreadsheet information of that location. Do you know that you can also show or hide the pins by their distinct characteristics? Filter them and you'll be able to view only the pins that are more important to your present data analysis.
You may find other company's data sets here. We have location data sets of more than 4,700 companies! Sign up now to create a Winn Dixie locations map.