Speed Up Your Data and District Territory Analysis with Supersets
As one of our most powerful products, supersets will help you unlock the full power of your data on your Equatorial Guinea Map Showing Districts. Recently, Equatorial Guinea was faced by left and right tragedies – the pandemic and the accidental explosions that took the lives of a lot of people. Because of that, different government agencies are actively sending emergency responses to affected individuals. To provide the most timely health and emergency responses, population and territory analysis is of utmost importance. This can be easily achieved as you apply the supersets on your districts map of Equatorial Guinea. 
Supersets serves as an automated data localizer. Since localization is one of its focal points, it is designed in a way that the main focus is on the data thereby generating specific location content. It's like giving superpowers to your Excel spreadsheet data! For example, local government offices can easily analyze staffing assignments for emergency responders. So when there is an emergency call, superset can automatically determine the best responder for the job. He or she may be the nearest, the most available, and the most qualified. Supersets can even provide a second and a third option!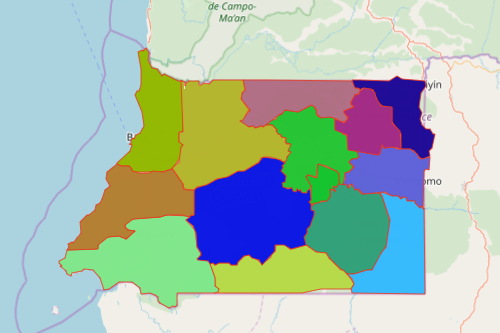 Learning Localization Easy on an Equatorial Guinea District Map
It only  takes a few seconds to generate a territory map. Once the map is up and running, apply the supersets for lightning-fast solutions for many location and analytical problems. 
Create a Mapline account and login.

Click the orange "Add New Items" button.

Select "New Map" on the drop down arrow.

Give your map a name and click "OK."

Click the "Add" button from the left sidebar.

Select the "Territories" option.

Click "From Mapline's Repository."

From the "Territories" select "Equatorial Guinea Districts." Use the search bar for quicker results.

Select how you want your boundaries to be colored in "Fill Color" (Random Colors, Uniform Color, Dynamic heat map colors, or Custom colors from spreadsheet).

Click "OK."
Instead of just plotting your Excel data on your Equatorial Guinea map showing districts, make your data work for you! Sign up now and learn more on how supersets can help you unlock information that provides fresh insights and discover new opportunities.