Learn How to Bring Meaning Into Your Data with Supersets
Using supersets, your Excel spreadsheet data can make a difference when plotted on a territory map like an Equatorial Guinea map showing municipalities. Supersets is an Automated Data Localizer. With this technology, the analysis is more focused on data as it generates new specific location content that is most related to your analysis. How? Let's take Equatorial Guinea as an example. The country is well-known for its coffee and cocoa products. So let's say a company that produces and markets coffee products wants to expand its data analysis. Supersets use technology to connect data to their actual locations. It helps the users to understand the reasons behind the "what" and the "why's." 
Mapping Equatorial Guinea municipalities with supersets brings out the best in localization. You will understand the connection between your data within the municipality boundaries. Sales and marketing experts can draw a 10-mile radius on each store. They can extract the best data that matters like the number of potential customers, total sales, and more. 
And the best part of the supersets is that it automates! So when conditions suddenly change, supersets can dynamically adjust to the current situations. This is a great help to save time and assets especially for life-threatening responses.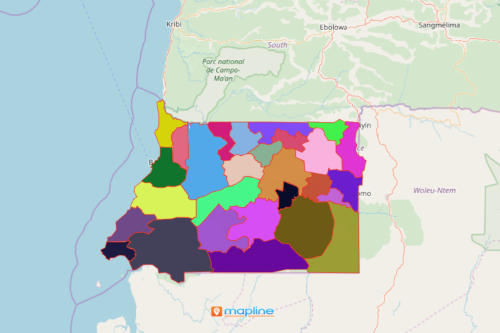 Start Analyzing The Municipalities of Equatorial Guinea Map
But first, create one which can be completely done in just a few seconds:
Create a Mapline account and login.

Click the orange "Add New Items" button.

Select "New Map" on the drop down arrow.

Give your map a name and click "OK."

Click the "Add" button from the left sidebar.

Select the "Territories" option.

Click "From Mapline's Repository."

From the "Territories" select "Equatorial Guinea Municipalities." Use the search bar for quicker results.

Select how you want your boundaries to be colored in "Fill Color" (Random Colors, Uniform Color, Dynamic heat map colors, or Custom colors from spreadsheet).

Click "OK."
Experience supercharged spreadsheet on your Equatorial Guinea map showing municipalities with supersets. Sign up now and let us take you to a whole new level of data analysis that provides quick solutions to many location problems.