One Map, One Team, One Success
Location influences all aspects of different industries. It is the reason why using a provinces map of Equatorial Guinea is highly important. The provincial-level analysis is used for tapping new locations. It is also used in identifying new resources. Additionally, when province boundaries are overlaid on a map, a better field management can be done. Yes, Mapline's powerful mapping tools reveal deeper insights when it comes to answering the complex location-based questions. The data visualization revealed on a map levels up the thought process needed for informed decisions. 
Mapline offers mapping tools that are easy to use. Instead of company leaders pouring countless hours analyzing spreadsheets of data, mapping locations data do the trick! Location is a core in every business undertaking. Adding data on an Equatorial Guinea map showing provinces takes your data analysis up a notch!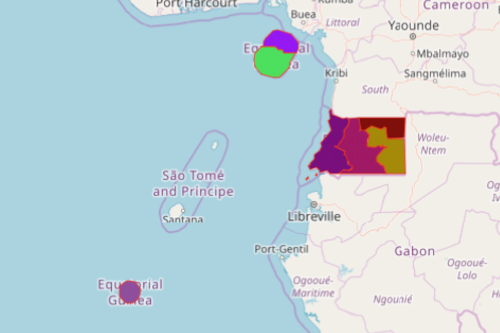 Create an Equatorial Guinea Province Map and Work as a Team
Make each team member a team player. Make your map of Equatorial Guinea provinces shareable within your organization. When each team has access to your map, they will also gain access to the most recent information. As a result, they can share their insights. Start creating maps by following these steps:
Create a Mapline account and login.

Click the orange "Add New Items" button.

Select "New Map" on the drop down arrow.

Give your map a name and click "OK."

Click the "Add" button from the left sidebar.

Select the "Territories" option.

Click "From Mapline's Repository."

From the "Territories" select "Equatorial Guinea Provinces." Use the search bar for quicker results.

Select how you want your boundaries to be colored in "Fill Color" (Random Colors, Uniform Color, Dynamic heat map colors, or Custom colors from spreadsheet).

Click "OK."
Make it easy for your team to analyze map information. Share your maps or embed the map to your website. There is a lot more that you can do by mapping boundaries like provinces. Sign up now to level-up your boundary analysis.