In-Depth Analysis of District Boundaries as a Guide for Health Workers
A districts map of Ghana is a vital tool for Ghana Health Services to monitor the population for suspected Yellow Fever (YF) cases. Last month, Ghana recorded around 202 suspected cases. To get the most out of your map, use different mapping analytical tools. One great tool to use is a territory heat map. It uses physical territory boundaries like district boundaries. They are grouped together based on data and then color each district territory based on either values from the dataset or location density. The result? A great visualization of active YF cases! This is of vital importance to understand the concentration of the population affected by the disease. From it, you can create a plan on how to conduct a risk management process. You can schedule the proper time for risk communication,  community engagement, and other health care provisions. 
Another great thing about using a Ghana district map is that you can always augment your data with Mapline's Automate. Yes, you can automate anything! In that way, you can automatically assign district boundaries to dedicated field investigators for contact tracing. Meanwhile, health care specialists can create timely reports as they investigate further suspected cases. What's even better is that they can share the reports in just a few clicks.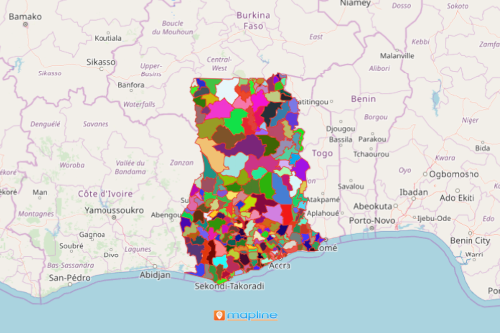 Show More Than Just Territory Boundaries 
Creating a Ghana map showing districts is the basic and the easiest step. After a few seconds, you can start applying every mapping tool necessary for in-depth analysis.
Create a Mapline account and login.

Click the orange "Add New Items" button.

Select "New Map" on the drop down arrow.

Give your map a name and click "OK."

Click the "Add" button from the left sidebar.

Select the "Territories" option.

Click "From Mapline's Repository."

From the "Territories" select "Ghana Districts." Use the search bar for quicker results.

Select how you want your boundaries to be colored in "Fill Color" (Random Colors, Uniform Color, Dynamic heat map colors, or Custom colors from spreadsheet).

Click "OK."
Think bigger as you use a districts map of Ghana.There are a lot more analytical tools that you can use to speed up your data and territory analysis. Sign up now and learn more about these user-friendly analytics.