How Applying Segments Enhance Your Data Analysis
How do you turn a region map of Guinea-Bissau into a pool of data analytic learnings? Easy! Don't stop on just plotting your Excel spreadsheets. On the contrary, it is only the beginning. The more you apply analytical tools like segments, filters, and territory reports, the more you can identify trends and stay one step ahead of the competition. Let's take the segment tool as one example. This is usually applied when you have hundreds or even thousands of locations. To remove the difficulty in analyzing the locations, segment the pins based on their characteristics. You can regroup your data and segment your pins to form a three-layer map which shows segments based on your store locations, competitions, and customers. 
Applying segments as you analyze your data on a Guinea-Bissau map showing regions definitely steps up your game. Assign specific pin characteristics for individual segments to differentiate them. You can customize the style by choosing different shapes, colors, sizes, or stamps. Applying segments and other mapping tools really helps to uncover all of the important trends in your data.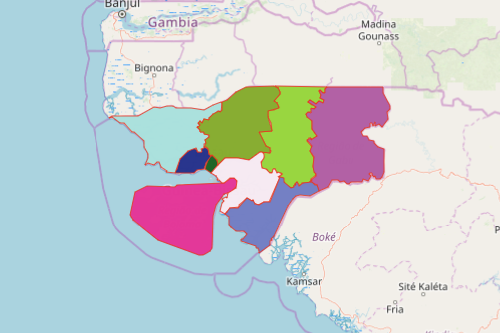 Start Your Data Analysis with Segments
Start creating a Guinea-Bissau region map now and in a few seconds, you can add your Excel spreadsheet data. Then, segment your data in just a few clicks!
Create a Mapline account and login.

Click the orange "Add New Items" button.

Select "New Map" on the drop down arrow.

Give your map a name and click "OK."

Click the "Add" button from the left sidebar.

Select the "Territories" option.

Click "From Mapline's Repository."

From the "Territories" select "Guinea-Bissau Regions." Use the search bar for quicker results.

Select how you want your boundaries to be colored in "Fill Color" (Random Colors, Uniform Color, Dynamic heat map colors, or Custom colors from spreadsheet).

Click "OK."
See beyond territories. See beyond data. Make your region map of Guinea-Bissau works for you by applying segments. Sign up now and experience what else you can do beyond segmenting data.