Mapping Software for Progressive Planning 
Mapping Israel Sub Districts is the first step to lay down plans for economic recovery. Israel is a country located in Western Asia. It is divided into 15 sub districts called "Nafot." The sub districts are further divided into 50 Natural Regions. Like all other countries, Israel was seriously affected by the global pandemic. But since 2021, it was reported that the country experienced a 7% economic growth rate. Still, some industries continue to suffer like tourism, hospitality, and entertainment. To help such industries, a geographic approach is needed. Mapping tools such as dynamic filtering and data segmentation are used by planning and economic development professionals. How are these tools applied?
Accurate data analysis requires filtering your Excel data on a sub districts map of Israel. The map shows a customized look that presents information that is relevant to economic planning. Data segmentation lets you understand each shred of customer data by category. Doing this enlightens you to identify the next trends that will be pertinent to your business amidst the pandemic.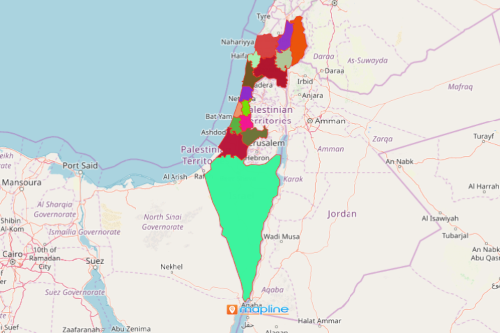 How Mapping Helps Mitigate Business Risks 
Creating an Israel sub districts map helps mitigate risks and plan ahead for business continuity – with or without the pandemic. The key is to use the best mapping tools possible to extract data information and use it to your advantage. But first, learn to create a territory map in just a few seconds:
Create a Mapline account and login.

Click the orange "Add New Items" button.

Select "New Map" on the drop down arrow.

Give your map a name and click "OK."

Click the "Add" button from the left sidebar.

Select the "Territories" option.

Click "From Mapline's Repository."

From the "Territories" select "Israel Sub Districts." Use the search bar for quicker results.

Select how you want your boundaries to be colored in "Fill Color" (Random Colors, Uniform Color, or Custom Colors From Spreadsheet).

Click "OK."
Mapping Israel sub districts is the first step to bring out the information necessary for economic planning. The next step is sign up now so you can choose the right mapping tools to help you plan ahead for your business while mitigating risks.