Data Analysis That's On Point? Use These Tools
Analyzing data on a Nepal map showing Village Development Committee for business planning can be maximized by using mapping tools. For everything business related, mapping with Mapline is highly recommended. Plot multiple locations on your map to get the whole picture – not just the direction going from Point A to Point B. In Mapline, users can upload hundreds of locations from Excel spreadsheets and view them simultaneously on a map. It allows the users to plot addresses on a map in just a few seconds. A wealth of information is rooted from viewing the addresses on a map. But to extract information, the right kind of tools should be used. What tools?
Use sublayer to group pins as you map Nepal Village Development Committee. In just a few clicks, sublayers can separate data according to data categories such as customer segments, location types, and others. The tool enhances the users' visualization to see patterns and trends in their data. Another powerful tool to use to analyze data is the radial heat map. It provides a clear visualization of color-coded concentrations to identify clusters of high-density areas.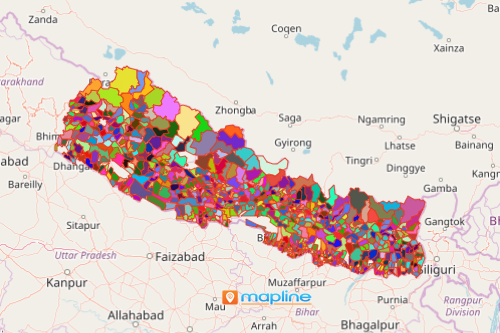 Create a Map for Data Analysis
When the right tools are used, mapping Nepal Village Development Committee for data analysis can be easily achieved! But first, create your territory map and plot your spreadsheet of locations:
Create a Mapline account and login.

Click the orange "Add New Items" button.

Select "New Map" on the drop down arrow.

Give your map a name and click "OK."

Click the "Add" button from the left sidebar.

Select the "Territories" option.

Click "From Mapline's Repository."

From the "Territories" select "Nepal Village Development Committee." Use the search bar for quicker results.

Select how you want your boundaries to be colored in "Fill Color" (Random Colors, Uniform Color, or Custom colors from spreadsheet).

Click "OK."
Data understanding using a Nepal map showing village development committee is achievable with the help of powerful mapping tools. Sign up now and learn why Mapline is the only option for many organizations that want to achieve easy data analysis that's on point.