Uncover Location-Based Insights Through Mapping
A lot of people are requesting to map English ceremonial counties. This  territory boundary is unique because it is used with reference to the metropolitan and non-metropolitan counties. At times, they are also called geographic counties. Fortunately, Mapline offers this special territory boundary.  Add your Excel spreadsheet data to your map of English ceremonial counties. By doing so, you can discover location-specific insights. 
Mapline empowers you by providing a map with an impact! With powerful mapping tools that you can use, you can better understand how your locations data interrelates in different ways. Use the distance calculation or coverage networks to analyze and discover growth opportunities.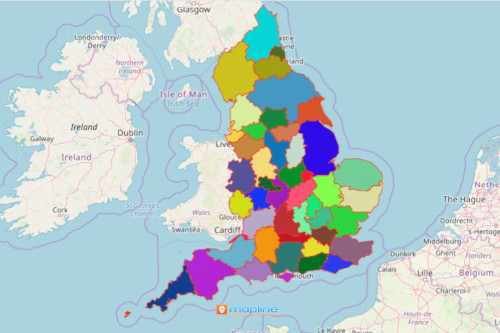 Map English Ceremonial Counties for Improved Efficiency
Mapline can help you make the most of your precious time. It only takes mere seconds to create a map. Perform in-depth analysis right after you created a map.
Create a Mapline account and login.

Click the orange "Add New Items" button.

Select "New Map" on the drop down arrow.

Give your map a name and click "OK."

Click the "Add" button from the left sidebar.

Select the "Territories" option.

Click "From Mapline's Repository."

From the "Territories" select "English Ceremonial Counties." You can also enter that on the search bar.

Select how you want your boundaries to be colored in "Fill Color" (Random Colors, Uniform Color, Dynamic heat map colors, or Custom colors from spreadsheet).

Click "OK."
In Mapline, there are always new mapping tools to try! Sign up now and do a lot more things with your map. Try adding the distances from your customers to your stores. Find the nearest distribution center from your store locations by using a straight line or distance driving.