Population Centre-Level Mapping to Tailor Fit Your Territory Analysis
Good news! It is now very easy mapping Canada population centres. The territory boundary is now available in Mapline to use conveniently in your territory and data analyses. Why is this boundary so important to many sectors? The main reason is that population centres along with rural areas cover all of Canada. To be called a population centre (known for its abbreviation as POPCTR), an area must have a population density of 400 persons per square kilometre. Also, it should have a population of at least 1,000 people. The criteria is based on the current census population count. Areas that fail to have this criteria are classified as rural areas. 
With this territory boundary available to use, your Excel spreadsheet of location data will provide more pertinent information. By heat mapping, you can easily derive which population centres are classified as small, medium, and large. Another powerful mapping that can be used to give more insights on data analyses is the dot density map. Because of its immense design, it provides a quick solution for identifying spatial patterns.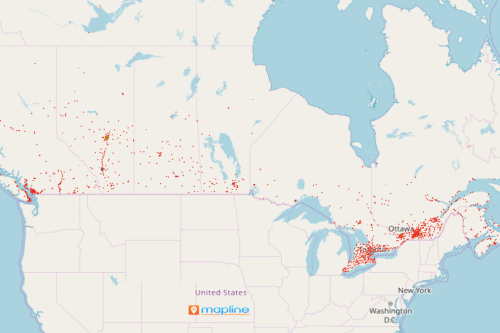 High-Speed Mapping in Seconds
Yes, that's true! See for yourself how you can speed up mapping the population centre boundary in just less than a minute. Once your map is generated, you can immediately start with your analysis.
Create a Mapline account and login.

Click the orange "Add New Items" button.

Select "New Map" on the drop down arrow.

Give your map a name and click "OK."

Click the "Add" button from the left sidebar.

Select the "Territories" option.

Click "From Mapline's Repository."

From the "Territories" select "

Canada Population Centres

." You can also enter that on the search bar.

Select how you want your boundaries to be colored in "Fill Color" (Random Colors, Uniform Color, Dynamic heat map colors, or Custom colors from spreadsheet).

Click "OK."
Sign up now and enjoy mapping all the special and unique territory boundaries we have for Canada.