A Map of Costa Rica Districts Helps in Real-Time Insights
Mapping the districts of Costa Rica is integral in helping companies engaged in the logistics industry. Logistics covered a broader spectrum than transporting goods. Hence, companies must deliver on service expectations. Costa Rica has 473 districts. Getting to know each district boundary is fundamental when exploring the supply chain efficiencies. In addition, the map is very useful when it comes to meeting customer expectations. It helps them prepare for impending threats in delivery and operation.
Additionally, you can see the best routes possible when mapping. Mapline allows you to optimize routes based on customer locations. It also helps to fulfill your promised deliveries. Indeed, when mapping the districts of Costa Rica, you will exceed in customer satisfaction.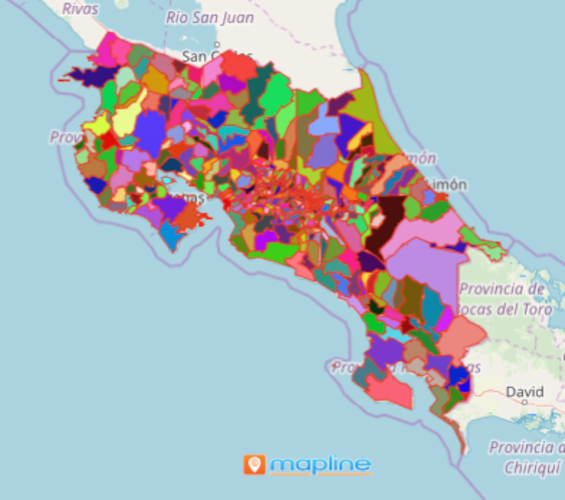 Meet Complex Market Demands with Your Map
Get the best logistics decisions using Mapline's territory boundaries:
Create a Mapline account and login.
Click the orange "Add New Items" button.
Select "New Map" on the drop down arrow.
Give your map a name and click "OK."
Click the "Add" button from the left sidebar.
Select the "Territories" option.
Click "From Mapline's Repository."
From the "Territories" select "Costa Rica Districts." You can also enter that on the search bar.
Select how you want your boundaries to be colored in "Fill Color" (Random Colors, Uniform Color, Dynamic heat map colors, or Custom colors from spreadsheet).
Click "OK."
Dig deeper about freight move from one location to another.  Sign up now to know a lot more about patterns and risks that may affect your logistics management.