How Mapping City and Town Boundaries Helps in Spatial Analysis
A US city and town map is an efficient tool for spatial analysis. Many users are looking for the cities and towns boundary. Fortunately, Mapline got you covered. This territory boundary is somewhat special. There are over 19,000 incorporated cities and towns in the US. To understand the geographic nature, Mapline makes it available for users to overlay a territory boundary of US Cities and Towns on a map. When locations are added on a map, you can start your spatial analysis. The questions "where, " "what," and "how" can all be answered by this powerful data visualization.  
A territory map provides more than just the geographic information of a boundary. It connects the seemingly meaningless location data into spatial patterns that are easily understood. The map uncovers hidden relationships and connections between locations to create a competitive edge when designing plans for operations and business. Even when you have a massive amount of data, you can still extract essential information with the help of powerful mapping tools. Use data segmentation or heat mapping in your data analyses to assess trends and discover new ideas valuable for decision-making.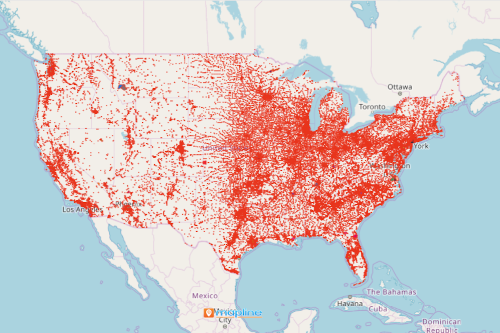 Unlock Your Data's Potential by Overlaying Boundaries on a Map
It only takes a few seconds to create a map of cities and towns. Just follow these easy steps:
Create a Mapline account and login.

Click the orange "Add New Items" button.

Select "New Map" on the drop down arrow.

Give your map a name and click "OK."

Click the "Add" button from the left sidebar.

Select the "Territories" option.

Click "From Mapline's Repository."

From the "Territories" select "

U.S. Cities and Towns

." You can also enter that on the search bar.

Select how you want your boundaries to be colored in "Fill Color" (Random Colors, Uniform Color, Dynamic heat map colors, or Custom colors from spreadsheet).

Click "OK."
True enough, mapping Excel data with an overlay of US Cities and Towns boundary can definitely help in overcoming geospatial problems. Sign up now to see how mapping tools can help you see your data with fresh eyes as you overcome geospatial problems.