Mapping the Micro Regions of Brazil Aims for a Deeper Study of Economic Development
In Brazil, there is a special territory boundary called "Micro Region." It is made up of a group of hundreds of municipalities. There are 557 micro regions in Brazil. To make a deeper understanding of the economic growth of each micro region, local authorities use a Brazil micro region map. A micro region map helps in discovering assets and strengths of each boundary. The study of individual micro region is useful in planning for economic development. 
Mapping tools are vital in identifying areas of opportunities for each micro region. Heat maps work as powerful data analytic tools that can change the way you look at Excel location data. A data-driven map is made more organized when data are segmented. Segment  location data by location types, or population. This assures an onpoint discovery of trends and insights.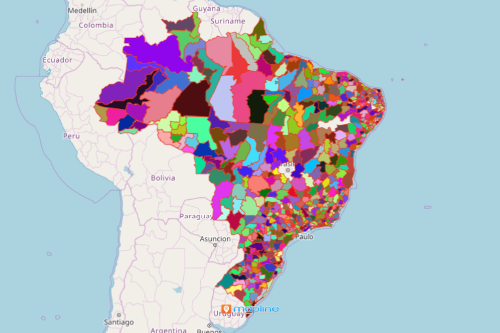 Create a Micro Regions Map for Better Strategic Approach
Easily overlay micro regions of Brazil to start your data analysis. It will only take you a few seconds: 
Create a Mapline account and login.

Click the orange "Add New Items" button.

Select "New Map" on the drop down arrow.

Give your map a name and click "OK."

Click the "Add" button from the left sidebar.

Select the "Territories" option.

Click "From Mapline's Repository."

From the "Territories" select "

Brazil Micro Regions

." You can also enter that on the search bar.

Select how you want your boundaries to be colored in "Fill Color" (Random Colors, Uniform Color, Dynamic heat map colors, or Custom colors from spreadsheet).

Click "OK."
Discover how mapping tools help visualize and analyze economic and community growth potentials. Sign up now and experience first hand all the great mapping abilities designed by Mapline for your data analyses.