Respond More Effectively By Mapping
A map of Brazil federal district regions provides great analyses concerning the impacts of the pandemic. The federal district of Brazil has a unique administrative structure. It is one of the 27 federative units of Brazil. Since it is the smallest federal unit, it is not divided by municipalities. Rather, it is divided into 31 regions. Fortunately, the region-level boundary of the Federal District is available to map. By using this boundary, the local government can monitor how each region is doing in times of crisis. 
Mapping the regions of the Federal District of Brazil is a sure way to gain insights and respond to crises accordingly. How? First, it allows the users to observe. Try to collect as many data regarding cases, medical facilities, and testing sites. Second, a map is a good source for analyses. When data are collected and plotted on a map, it becomes a powerful visualizaton to identify which regions have the advantage compared to the regions that need more assistance. Third, the insights gained from the data visualization is critical to decision-making. From the map visuals, it is easier to respond on how to deploy the necessary resources.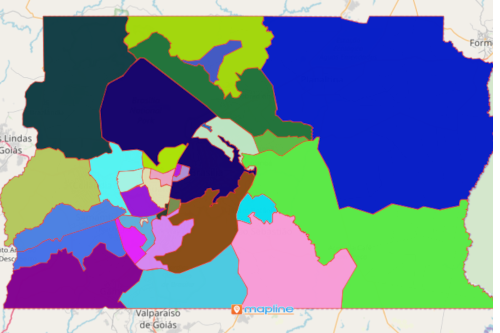 The First Stop Before Responding – Building a Map 
By creating your own map of Brazil Federal District regions, you'll get to respond quickly in times of need.
Create a Mapline account and login.

Click the orange "Add New Items" button.

Select "New Map" on the drop down arrow.

Give your map a name and click "OK."

Click the "Add" button from the left sidebar.

Select the "Territories" option.

Click "From Mapline's Repository."

From the "Territories" select "Brazil Federal District Regions." You can also enter that on the search bar.

Select how you want your boundaries to be colored in "Fill Color" (Random Colors, Uniform Color, Dynamic heat map colors, or Custom colors from spreadsheet).

Click "OK."
As we face the pandemic crisis, creating a map of Brazil federal district regions is a smart move to think fast, act quickly, and protect the community. Sign up now to learn more about other powerful mapping tools to use to plan and respond.