Unlock The Barriers of Mapping Cardtronics Locations With Mapline
Collating thousands of locations presents a huge barrier in mapping. It is a good thing that Mapline provides data sets or Excel spreadsheets of locations of companies. One example is Cardtronics. Cardtronics is a Houston-based company that manages self-service financial kiosks. The company owns and operates the process where consumers interact with their funds and financial institutions. It also provides management of expertise used by local and international banks to provide financial access remotely to their customers.
Using Mapline-provided data set for Cardtronics, map all its locations – more than 35,000 of them – without any barrier.
Steps to Create a Map of Cardtronics Locations
Create a Mapline account and login.
Click the orange "Add Data Layers" button from the left sidebar.
Click "New Map" to create a new map.
Give your map a name and click "Create Map."
Select the "Add Pins from Mapline Data" option.
Now you will see a list of all the data sets (spreadsheets).
Using the Search Box, select "Cardtronics " as your data set.
Click "Done."
When you see your map, you will notice that the pins are automatically clustered. You can play around the option to cluster the pins the way you want just like the map below: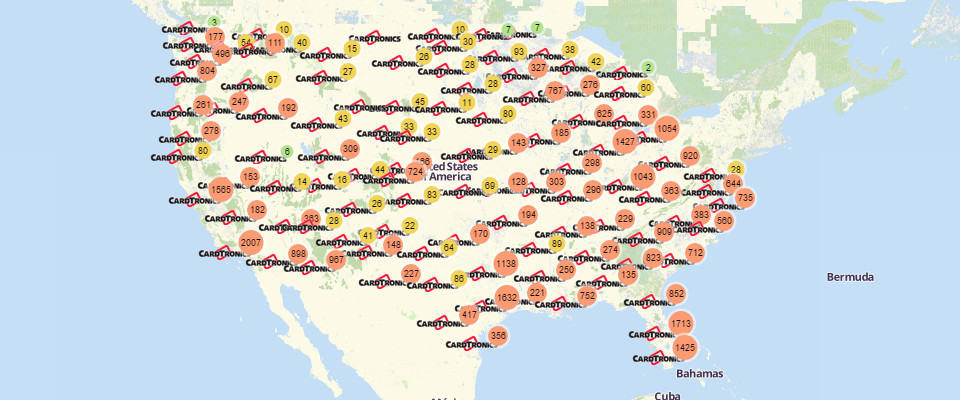 Capture significant insights on map visualization by adding more features. Radial map serves as location analytic tool to help you create strategic plan that is tailor fit to your line of business. Adding territory boundaries help manage sales territories, cultivate better leads, and results in greater efficiency. You may also want to try creating a color-coded map, assigning one color to pins when you filter the data under different categories.
Stop shouldering the barriers in mapping thousands of locations. Mapline-provided data sets can help you map easily without any barrier. Choose from this list to learn about the data sets provided to over 5,000 companies. Sign up now to create a Cardtronics locations map.