Walmart Locations Map
You can easily create a Walmart locations map using Mapline. Walmart is the world's largest company by revenue. It is also the largest grocery retailer in the USA.  The company was founded by Sam Walton in 1962. Walmart is a miscellaneous general merchandise store where people can buy grocery items, pharmaceutical items, and more. Walmart has 11,528 stores operating in 27 countries. Mapline offers Walmart locations in the USA, Canada, China, and Mexico.
With just a few clicks of a button, Mapline makes it the easiest for you to map thousands of locations! There are 4,644 Walmart locations in the USA to map.
Steps to Create a Walmart Locations Map
Create a Mapline account and login.
Click "New Map" to create a new map.
Give your map a name and click "Create Map."
Click the orange "Add Data Layers" button from the left sidebar.
Select the "Add Pins from Mapline Data" option.
Now you will see a list of all the data sets (spreadsheets) available. Using the Search Box, select "Walmart" as your data set. (Choose from Walmart locations from USA, Canada, China, and Mexico).
Click "Done."
When you're done adding the data set, you can customize the map pin and turn it into a Walmart logo. Your map would look like this: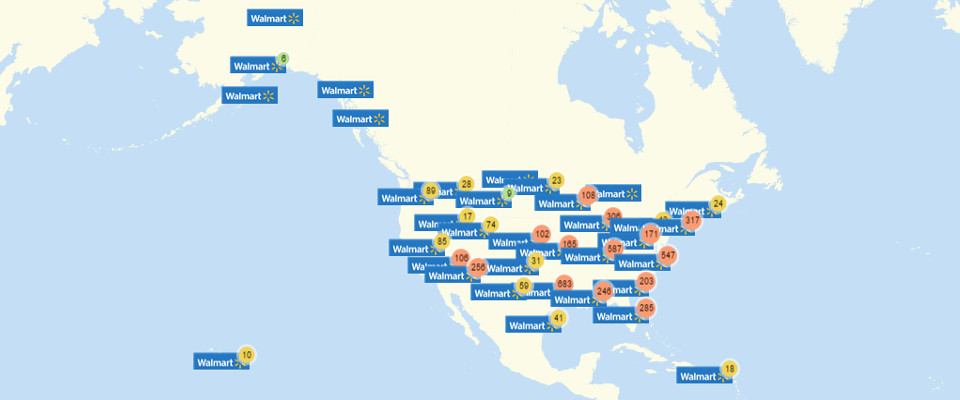 That's how easy it is to create a Walmart locations map! Once you have your map, you can check out other mapping options available like clustering pins, showing labels, creating heat maps, and adding coverage overlay. Mapline makes it simple for you to see summary information about the locations just by clicking on them. Easily check out the following inside the bubble:
Name
City
State
County
Country
Hours of Operations
Phone Number
No need to scrape the internet for locations data. Check out from more than 4,700 companies and over 4 million locations worldwide! Sign up now to create a Walmart locations map.