Download Mapline's Excel Add-in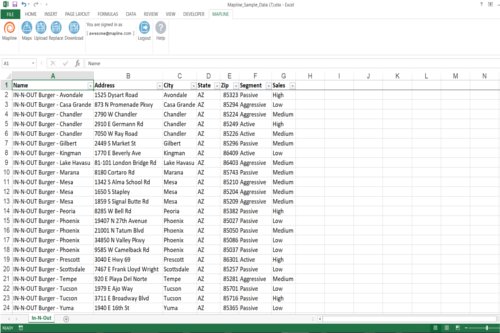 Upload all your data from Excel
Jumping between applications can be a headache. Fortunately, Mapline provides an Excel map add-in! You can update your maps and data sets without ever having to leave Excel. All you need to do is download the add-in and you're good to go. As you make your changes, you're just a couple of clicks away from an updated map. Think of all the time you save by updating everything from Excel with just a few clicks!
Steps to download the Excel Add-in
You will need the Microsoft .NET Runtime and the Microsoft Office Runtime. If you are unsure whether you have these or not, then just proceed with installing the add-in. You will get an error message if these are not already installed on your computer.
Download and install Mapline's Excel Add-in for Windows.
Open a spreadsheet in Excel.
Click on the "Mapline" tab on your Excel Ribbon.
Select the function (Upload, Replace, or Download) you want to perform.
Follow the steps in the lightbox that appears.
Check out our instructions for using the Excel Add-in to see everything you can do directly from Excel.