Plot Points on a Map with Pins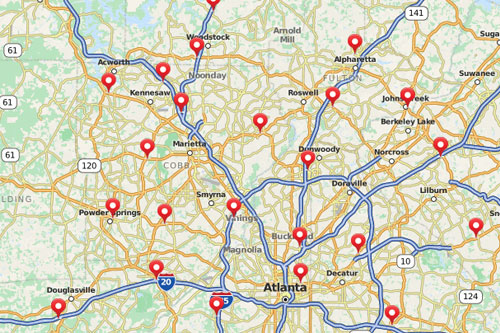 Visualize your data as pins on a map
With Mapline's custom map maker software, you can plot points on a map in an instant. Just paste your Excel data into Mapline and you can see your locations on a map. It's that easy to transform Excel data into an eye-popping pin map. By transforming your data into a visual map, analysis and planning become so much easier. It's suddenly simple to view where the highest concentrations of your pinned locations are and discover trends and patterns in your locations. Go even farther by customizing your pins so you can get a clear picture of which locations represent certain types of data.
Steps to plot pins on a map
Prepare your spreadsheet with the correct headers for your columns.
Login to Mapline.
Create a new map.
Click on New Map.
Give your map a name and Continue.
Click the Add Data Layers button.
Click New Data Set.
Give your data set a name and paste your data from Excel into Mapline.